Journal
Go Boldly Into 2023 with a First Day Hike at a State Park
by Allison Oliverius on Dec 30, 2021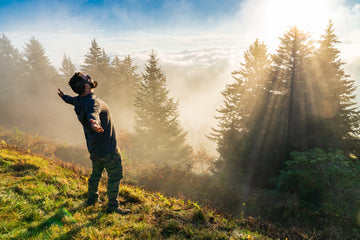 With 2023 upon us, winter's call back to hearth and home is heard loud and clear. And, as with every new year, the intrinsic need to reflect on last year and simultaneously dream about the next is ever-present. Many folks resolve and make plans to tackle ambitious adventure goals for next spring, summer, and fall. But for the bold few who decide to ignore winter's call home and go out on winter hikes, there is solidarity and adventure to be found! 
There is no time like the present and if you're looking to start your new year and your new you off right, we suggest you get out and celebrate with a State Park First Day Hike on New Year's Day!  
First Day Hikes – Celebrate Your State Parks!   
Just as winter is often overlooked as an adventure season, State Parks are often overlooked for National Parks by most adventurers. Although they live in the shadow of our more famous National Parks, here's why we love them.  
State Parks are equally impressive.

 

Their hiking trails are generally less visited and better maintained.

 

Their friendly Rangers are more than ready to host your First Day Hike 2023!

 
Having just passed through the winter equinox, daylight is scarce and so is motivation. On the darkest of winter days just getting up, getting dressed and going outside can seem like an insurmountable task.  
Utilize the optimistic energy of a New Year as the driving force to break through winter's inertia, because winter hikes will inevitably lead you to a wonderland! All of this sounds dreamy, but winter doesn't hold back any punches — if you come unprepared, you and your experience will suffer.  
Get out and seize the winter rays by following these winter hiking tips and ensure your First Day Hike is an enjoyable one!    
Style for Winter Days – the Layering System  
Clothing is your first line of defense to prevent winter's cold from seeping into your bones. Dressing appropriately in winter conditions will greatly enhance your experience, but the knowledge and skillset required to do so are extremely hard-earned. We're here to help you skip the uncomfortable part of that learning curve.  
The overarching goal of your winter hiking outfit should be to keep you warm, but not too warm because sweat is a thief of joy in winter. Finding the Goldie Locks combination of clothing that lets you walk the line between freezing and sweltering is the key to enjoying your cold-weather adventures and maintaining that balance requires constant management of your layering system.  
Of course, you're going to dress in multiple layers when it's cold outside but knowing exactly which layers to wear and the ins and outs of how they work together in a layering system is worth exploring. Once you dial in your approach, your layers will come together to form a system where the sum of the parts is greater than the whole.  
A solid layering system consists of three pillars: your base layer, your mid-layer, and your outer layer.  
Base layers are generally more form-fitting and worn closest to the body. A good base layer, like the Men's and Women's Oasis Performance Long Sleeve, not only maintains heat but also wicks moisture away from the body keeping you dry as you take on more aerobic activities.  
Mid-layers provide the bulk of your insulation and can vary greatly depending on the amount of heat you wish to retain. Items with a hood, the Men's Oasis Performance Hoodie and Women's Oasis Performance Hoodie work exceptionally well for winter mid-layers as they add an extra element of protection to your layering system by covering the veins and arteries of your neck which lie close to the skin's surface and easily exchange heat with cold air if left unprotected.  
The right choice of outerwear will vary greatly depending on expected weather and planned activity. If you are in ultra-cold conditions where the snow will not melt during the day you can opt for a soft-shell material, which will breathe and stretch, or your Vapor Sherpa Fleece paired with a lighter mid-layer. Check out the Men's Headwind Fleece Hoodie and the Women's Headwind Fleece Pullover. If you are expecting high winds and or conditions within the ballpark of 32 degrees—where rain, sleet, snow, and grauple are possible—opt for a highly waterproof hard-shell outer layer.  
The same layering system ideology can be repeated on your lower half. Again, it's all about finding the right balance for your metabolism and desired activity. Start out with a base layer like the Men's Delta Performance Legging or the Women's Mesa Performance Legging, which will retain heat and provide a comforting, compressing hug for your legs.  
If conditions are extremely cold, you can opt to mix in a mid-layer on the lower half like the Men's Alto Jogger or the Women's Alto Jogger, which can be worn in combination with a hard-shell outer layer for a versatile but bombproof combination. When your day is done, just slip off the outer layer and you're already stylishly dressed for your après adventures! If you are expecting seriously rugged conditions, or camping overnight, consider stepping your outer layer up to a dedicated pair of snow pants. Keep the base layer on and stash a mid-layer into your pack for emergencies and campsite comfort!  
Top-Tier Winter Tips 
Dialing in your layering system for winter adventures is step one. Once you have that locked down, follow these winter hiking tips and strategies to maximize your enjoyment!  
Firstly, start off "bold and cold" to prevent sweating, particularly on steep ascents. The idea is to stay warm at the trailhead and just before you start hiking drop a layer to prevent overheating—put it into a stuff pouch or side pocket on your pack for easy access during breaks.  
Remember, once you start to sweat, you have started the countdown to becoming uncomfortable and you need to make a course correction in either your layering system or your athletic output. Pro tip: If you're planning on going hard, pack an extra base layer to change into for your summit celebration in case you work up a sweat along the way.   
Stay hydrated, full-stop. Hiking is the ultimate practice of self-care and winter hiking provides the perfect conditions for dehydration. When temperatures get cold, we do not want to stop for breaks to drink cold water. Hydration systems with hoses can freeze or burst on traction devices and/or ice axes and it becomes increasingly difficult to stay hydrated.  
There are two direct ways to counteract your lack of thirst. First, drink water. That sounds stupidly simple, but you should consciously and intentionally be drinking water, or a water-based beverage, every chance you get. Make it a point to hike for a given interval—common practice suggests one hour—and then stop for a forced drink and snack break.  
The second and more inviting option is to step up your drink game and break out the hot beverages! To do so you're going to need to pack either a small stove or a vacuum insulated bottle with preheated water. A warm beverage like coffee, tea or hot chocolate will not only warm you to the marrow, but it will also lift your spirits in any condition. The warmth you imbibe will slowly radiate its way through your core and then be retained by your layering system.  
So, drink up, but save the alcohol for the after-party as it will lower your core temperature and affect your coordination and judgment. Warm foods follow the same internal warming strategy as hot beverages. Fill up your thermos with a warm soup de adventure for lunch and let it warm you from within. Pro-tip; add a little spice to turn up your internal engine! 
Elemental Essentials 
As always, you should bring "The Ten Essentials." Check out this list from the American Hiking Society. Vapor has you more than covered on No. 9, sun protection! Besides bringing along the essentials, including extra food and layers, a means of communicating, and a first-aid kit with an emergency blanket, you should follow these general rules of adventure:  
Always let someone know where you are going and when you plan to return so they can contact the search and rescue team if you do not.

 

The low angle of the winter's sun provides some incredible sunrise/sunset opportunities but remember it gets dark fast and early in winter!

 

Start your adventures early in the day, always bring your headlamp, and plan accordingly to avoid being stranded in the dark! 

 
Now that you are better prepared for your First Day Hike on New Year's Day it is time for you to pick a State Park hiking trail and go winter hiking! Visit the State Parks website for more information on the First Day Hike tradition including an interactive map where you can locate traditional hikes, self-guided hikes, and trail challenges in your area!  
Have fun out there, invite your friends, leave no trace, and always hike your own hike!  
-Steven