As a Clemson Football player and student athlete, my mission is to embody Clemson's core values both on and off the field, while serving as a respectful role model for the younger generation.

A portion of proceeds from every shirt sold will go to the Kevin Turner Foundation. This foundation raises awareness to the seriousness of brain trauma in athletes, and its connection to ALS.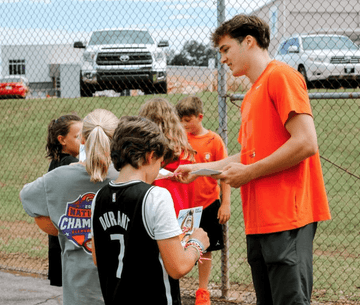 Jaylan Ford
Cole surged onto the scene at Clemson as a wide receiver during his redshirt season in 2022 and now, as he embarks on the journey into 2023, he boasts a commendable track record. With a total of eight career receptions spanning 161 yards, all achieved in just 102 offensive snaps across three games, his impact is undeniable. Notably, he achieved a remarkable 100-yard performance in only his second appearance, a standout moment during the 2022 ACC Championship Game. Beyond his prowess on the field, Cole's dedication to both football and community service positions him as an authentic role model, resonating with aspiring athletes and community members alike.
Jaylan Ford's Custom Gear