Journal
Be Sun Smart: 4 Ways to Prevent Skin Cancer
by Allison Oliverius on Mar 21, 2022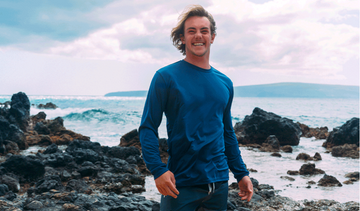 It's finally Spring Break! But it's still early spring, and the air temp isn't that hot. So, you skip the sunscreen. No hat, either, because you're not going to be out long. But … fast-forward to later that evening. Um. You're burnt. Your face and shoulders are red, painful, dried out. That's because sunburn can happen in under 11 minutes, and the damage can take weeks to heal. Plus, let's be honest: every sunburn increases your risk of getting skin cancer.  
Since there's no un-doing sunburn. The best thing you can do is – do better next time. Follow these 4 tips to help you avoid sunburn and help prevent skin cancer. It all starts with the right UPF 50+ sun protection clothing. 
4 Ways to Prevent Skin Cancer
1. Wear UPF 50+ Sun Protection Clothing
UPF 50+ clothing allows you to have the best of both worlds: You can stay outside longer without burning. Just by wearing UV-blocking shirts, hoodies, and more, you can boat, beach, fish, hike, heck, even do yard work all day without getting a painful sunburn. Fabrics with a UPF 50+ rating from the Skin Cancer Foundation block 98 percent of the sun's rays on covered areas.  
Our Eco Sol hoodies, shirts, and accessories for men and women have that UPF 50+ rating and a seal of endorsement from the Skin Cancer Foundation. Plus our Eco Sol gear is made from recycled plastic water bottles, which also helps reduce our collective carbon footprint.  
Our Solar shirts for kids also have built-in UPF 50+ sun protection so you can stop chasing them down to apply sunscreen.
That's such a big relief, the Charleston Post & Courier featured our sun protection gear on their Top 10 List of Mommy Must Haves for Summer. 
FAQ: Does Sun Protection Clothing still protect you when it's wet? Yes. Our built-in sun protection works whether the fabric is wet or dry. 
2. Stay in the Shade
If you're in for the long-haul on a beach day, take an umbrella or tent. Or find natural shade under a tree. Just be sure to seek shelter when the sun is at its hottest to avoid damaging rays and stay cooler. We highly recommend a long nap under that tent or umbrella. If we're honest, a beach nap pushes an epic day in the sand from a 9.9 to a 10 for sure.  
Just make sure fabric rating is also UPF 50+ so you can be sure it's blocking the maximum amount of UV rays. 
Keep in mind that UV rays bounce off of surfaces, and you'll still be at risk for sunburn - even in the shade. Make sure you're still taking all of the other precautions to avoid sunburn, like wearing UPF 50+ sun protection clothing. 
3. Wear Wide-Brimmed Hats
If you've had five blistering sunburns - even in your teen years, your risk of developing skin cancer is increased substantially. 
Your face, neck, ears, and scalp are some of the most common places to get skin cancer. Your scalp often gets it the worst because, well, it's at the top of your body and the closest to the sun. All the more reason to wear wide-brim hats like our Boonie Adventure Hats for adults and Boonie Adventure Hats for kids. 
4. Supplement with Sunscreen

Does sunscreen prevent skin cancer? Yes. Skin cancer prevention should include applying a broad-spectrum sunscreen with a minimum SPF of 30 in places that aren't covered with UPF 50+ clothing. To learn the difference between UPF and SPF, check out this blog. We prefer to supplement with mineral sunscreen because chemical sunscreens leach into your skin. Chemical sunscreens also wash off in oceans and rivers and damage ecosystems.  
What Are Skin Cancer Risk Factors?
Mayo Clinic's list of risk factors for skin cancer include:   
Fair skin

 

History of sunburn

 

Excessive sun exposure

 

Family history of skin cancer

 
Certain medicines can also put you at a higher risk of sunburn and ultimately skin cancer. 
Get a Skin Cancer Screening
The American Academy of Dermatology recommends a skin cancer screening every year. Go ahead and make that appointment with a dermatologist. We'll wait. You should still scan your skin on a regular basis to notice changes. But the doctor will be able to tell moles from potential issues, and check in places you can't get to. 
Gear Up, and Go!
Now that you know the best ways to avoid sunburn and help prevent skin cancer, it's time to get outside!  
Check out a few of our favorite year-round adventures:  
Beginner's Guide to Paddleboarding