Journal
How to Join Our Crew of Affiliate Content Creators
by Allison Oliverius on Sep 12, 2022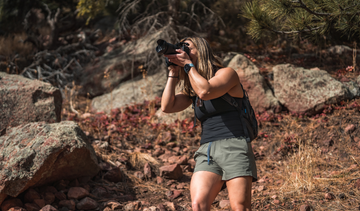 We're officially on the search for Content Creators to join our Affiliate program. We're looking for people whose activities and lifestyle fit what it means to Seize the Ray™. 
Vapor Elemental Wear Affiliate Details
Approved Affiliates will:
Be gifted with Vapor Elemental Wear's best-selling sun protection shirts and hoodies

Receive a personalized discount code to share with friends, family, and fans on Social Media Posts.

Receive a commission on every garment sold using their discount code, as well as other perks.
"We're particular about who we collaborate with and are looking for individuals who display our shared passion for the outdoors and are creators of engaging content," said Jackson Burnett, Vapor Elemental Wear President. 
Two Ways to Apply
Follow the link below or scan the QR Code to learn more and apply now to be considered to become part of an exclusive list of sports and entertainment partners living the Vapor way. 
1. Follow Link to Questionnaire: LINK
2. Scan QR Code
Did You Hear about Our 3-Year Partnership with College Football's Bowl Season?
This call for Affiliate Content Creators follows the announcement that Vapor Elemental Wear will produce and provide sustainable Bowl Bound shirts for each bowl-eligible team this college football season. This is made possible through a partnership with Bowl Season and Vapor Elemental Wear's recycled yarn provider Unifi/REPREVE.  
"Bowl Season is a special time of year for College Football," said Jackson Burnett, Vapor Elemental Wear President. "We are excited to not only be a part of it, but to also provide premium sustainable apparel to each school that qualifies for a Bowl Game."  
Learn more about our Bowl Season Partnership on our Blog.