Journal
Do You Practice Leave No Trace?
by Allison Oliverius on Apr 10, 2022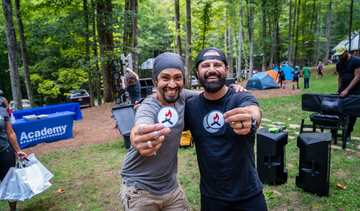 Exploring the Art of Leaving It Better Than You Found It. 
-By Steven Reinhold, Appalachian Adventure Company
Adventure sports are America's new pastime. Millions upon millions of nerve-stricken citizens—seeking refuge in nature—are trading in bats, balls and courts for boots, tents and views. Unlike traditional sports, the sport of adventure is not played out in metropolitan stadiums, it takes place on our public lands. Collectively, we own 640+ million acres of public lands in America, stretching from the coasts of Carolina to the Hawaiian Islands.
Breaking down the math that equates to almost 2 acres of public land per person, in America. As we all own these public lands, equally, they are ours to explore and they are ours to take care of, equally. And while other sports follow sets of rigid rules enforced by referees and groundskeepers, the sport of adventure is mostly cared for by its players and guided a set of principles known as Leave No Trace ethics. 
The overarching goal of practicing Leave No Trace is to leave it better than you found it. To literally Leave No Trace of your adventure, though, is virtually impossible but by endeavoring to do so you are already winning. Practicing Leave No Trace ethics in the field is a fluid situation—the guidelines are ever evolving and edited to keep up with the times.
Contrary to some people's beliefs, though, practicing Leave No Trace on your adventures is not a fun-sucking obligation. It is an opportunity to protect and preserve your public lands by mitigating your impact and simultaneously educating and empowering others to join the effort.
I was once guilty of assuming Leave No Trace was a mega entity designed to be the "Big Brother" of the outdoors. I thought they were always watching and that any violation in ethics would lead to a public shaming from the LNT community. I imagined a massive, Costco sized warehouse where they were monitoring my every step online and just waiting for me to err so I could be called out and cancelled! Turns out, I was dead wrong. 
In 2020 I was given the incredible opportunity to work closely with Leave No Trace and my friends at Black Folks Camp Too to help stoke the Unity Blaze! This powerful campfire symbol, from the center of the BFCT logo, signals to the world that you "treat everyone, everywhere, equally" and Leave No Trace went full-send on the partnership!
Together, we sourced an environmentally friendly Noso Patch for the Unity Blaze which lets people repair or add flair to their outdoor gear and go-to clothing while seriously reducing their textile waste. We also created the CampUS Scholarship Program—which is supported by sales of the Unity Blaze Noso Patches—to help drive the diversification of workforce talent within the outdoor industry.
During the partnership I wholeheartedly realized that the folks at Leave No Trace are amazing and I have grown to love them like family! They are a close-knit group of forward thinking individuals which operate out of a small, eco friendly office at the base of the mountains in Boulder, CO. They're passionate about what they do and they intentionally welcome any and everyone into their movement! 
Historically, Leave No Trace has encouraged the practice of "The 7 Principles" but recently they released a new set of "Leave No Trace Basics" aimed to engage with the onslaught of new visitors to public lands since the start of the pandemic. Seemingly everyone decided to go outside seeking refuge and that influx of new visitors put pressure on our public lands like we had never seen.
Record amounts of visitors, understaffed parks and aging infrastructure combined for a perfect storm of impact. That impact was felt hardest in easy-access places like the Great Smoky Mountains and Pisgah National Forest. One particularly popular spot called Max Patch was hit so hard that a 2-year ban on camping was implemented to allow the area time to recover. The pessimist would look at this influx of new visitors as the enemy, but the realist and optimist sees it as the solution. The more folks who are educated and empowered to protect and preserve our public lands the better, full-stop.
Let's explore Leave No Trace's new set of basic principles so you can leave it better than you found it on your next adventure!  
Know Before You Go
It is the most basic of all principles and it is the most important. Planning ahead and preparing for your adventure, before you go, will help you enjoy your experience and set you up for success from a Leave No Trace standpoint. The first step in any adventure should be researching the area you plan to visit. Check out trail reviews, visit State and National Park/Forest websites and social channels to check out trail info and road conditions and stop by the visitor center once you arrive! A friendly chat with a ranger or volunteer never fails to leave you with some inside info on how to best enjoy your experience! 
When you're planning ahead and preparing for your adventure make sure to pack all the basics: food, extra water, rain gear, basic first aid kit, map and a bag to take trash home with you. If you're heading out in the wintertime that basic kit should be expanded to include cold-weather safety items. Make sure to have some form of emergency blanket of shelter on hand, extra food and a backpacking stove for emergencies.
Prepare your vehicle with items like a sleeping bag, camping cookware, emergency meals and extra water in case you get snowed in or stuck on the road or at the trailhead. And, as always, make sure to let a reliable source know where you plan on going and when you plan to return—not a bad idea to provide them with the local search and rescue operations contact information! 
Don't Be A Party Pooper 
Talking about poop is typically taboo, but not in the great outdoors. We openly talk about it, we joke about it and we strategize about it, because knowing how to properly dispose of your human waste is of the utmost importance. After all, nothing ruins your outdoor vibe like finding "Charmin flowers"—squares and shreds of toilet paper—dotting the trail. It's gross, its unsanitary and it is completely preventable!
To lessen the impact of our human waste Leave No Trace suggests bringing a "poop kit" complete with toilet paper, hand sanitizer, and trowel. In most circumstances, walking 70 steps away from trails and water sources and digging a six inch cat hole to go in is the standard. In certain environments like high altitudes and deserts, though, "wag bags" or similar removable human waste containers are required to pack out what you packed in your stomach.
Human waste isn't the only issue at hand in the outdoors. Many adventurists enjoy exploring with their furry friends. You can't blame them because few things are as comforting as curling up in a sleeping bag with a good dog at the end of the day. So, bring them along, but know how to handle them and their number twos. Dog waste must be removed because it contains chemicals not normally present in the environment and disturbs the natural order of things with its scent and presence.
Make sure to bring a few biodegradable doggy bags and any time nature calls on your best friend, pick up after them. Turn the bag inside out to use it as a glove, grab the payload and then turn the bag right side out. Tie a quick knot and then place it in your personal trash bag—never be "that guy" that leaves the bag on the side of the trail to pick up later or never at all! Taking care of your puppy's poo is a beast of burden but having their companionship with you during life's greatest moments makes it more than worth it.  
Trash Talk
This Leave No Trace Basics Principle has a special place in my heart! In 2016 I started the #trashtag project which encouraged outdoor enthusiasts to pick up trash on their adventures and post pictures of their cleanup efforts with to social media with #trashtag to encourage their friends and followers to do the same.
The project saw a great initial response from the outdoor community. Within the first two years we registered over 30,000 uses of #trashtag on Instagram. Then, on one very fortunate day in 2019, #trashtag went viral and became a worldwide sensation! Since then, #trashtag has been used in every corner of the globe and utilized across the internet over 100 million times! I get a full-circle feeling knowing that more than a few of the plastic bottles picked up and recycled with #trashtag likely made their way into some pieces of Vapor Elemental Wear gear!
Picking up the Planet is fun and a gateway into conservation. On your next adventure come prepared to not only pack out what you pack in but bring an extra bag (bonus points for using a reusable bag) and make a clean sweep of the trail on your way out.
By making sure to leave no trash you ensure that the next folks who wander around see the area clean and pristine. Once enough people start picking up in a given area a tipping point is reached and a new norm is established. Once the area is cleaned other visitors are far less likely to trash the place, especially first time visitors who may not be familiar with outdoor norms or practicing Leave No Trace. Give it a try, you'll be surprised how many people will lend you a hand and thank you for your efforts! 
Better Together 
As previously mentioned, we own 640 million acres of public lands, equally. But, let us never forget that, these lands were once someone else's land. They were cared for and held sacred by Indigenous peoples since time immemorial. And not so long ago many folks weren't permitted on public lands. An admittedly twisted-pathway, paved in our imperfect past, led us to this current situation of public land ownership.
We must acknowledge that past, and then we must forge our way forward, together. Adventuring and advocating for public lands together is a beautiful thing because we are truly better together. It's not about checking boxes, it's about combining our diversity of thought, our diversity of experience and our diversity of approach which make us better together. By leaning on our collective lived experiences and thought processes we can ensure that our public lands remain our greatest treasure. 
How do we grow better together? The answer is more simple than you might think—go out on adventures, together! That's the starting point. If you are a seasoned adventurer and there is a community you vibe with or would like to learn more about, invite someone from that community to go camping, hiking, paddling or climbing with you.
If you're just starting out adventuring, reach out to other people in your area and say "hey, let's go do this together!" Once you get past that initial hurdle of introduction and get out into the great outdoors, together, you will find that you have more things in common than you have differences. Let adventure be the vehicle that drives the connections and conversations needed to unify our communities! 
Leave It Better Than you Found It
After being enlightened to Leave No Trace ethics and reading through their basics, you should be a little more prepared to go out and leave your next adventure spot better than you found it. Remember to have fun out there while you're protecting and preserving, but don't take yourself too seriously. Handle your own situation first and if it's necessary to step in and teach or correct someone else, tread lightly and avoid a self-righteous approach at all costs.
The goal of practicing Leave No Trace is not to be an authoritarian fun police. The goal is to provide the knowledge and pathway necessary for everyone to protect and preserve our public lands so we all have equal access to the awe inspiring capabilities of Nature!