Journal
10 Best National Parks for Families
by 20North Marketing Collaborator on Aug 24, 2021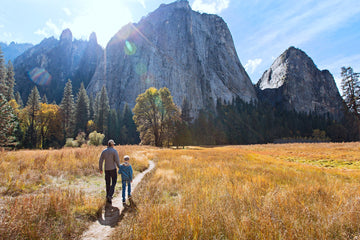 National parks are a goldmine for nature-based activities and a place to start your child's lifelong connection with the outdoors. You really can't go wrong with any of them, but there are a few gems just too good to pass up. 
What makes a kid-friendly national park? For us, it's the eye-opening experience. The earth is covered in sites worth marveling over. Whether that's a snow-capped glacier or a lake so blue it's surreal, there is so much breadth in wonders of the world. Other factors we consider are low risk of injury and activities inside and outside of the park. 
If we could, we'd give every national park the "best-for-kids'' accolade, but we had to narrow it down to a list of standouts. So, here they are, in no particular order: out picks for the best kid-friendly national parks in the U.S.:
1. Yosemite National Park – California
Yosemite is best known for its towering granite monoliths, crashing waterfalls, deep valleys, and ancient giant sequoias. Within its 1,200 square miles of vast wilderness, there are limitless kid-friendly possibilities for exploration. Here are a few to check out: 
Yosemite Falls: 

In spring and early summer when the water flow is at its peak, visitors are engulfed by the sounds of crashing water and misted with water at the base. Yosemite Falls is not just a famous attraction, but it's also the highest waterfall in Yosemite National Park. The Lower Yosemite Fall Trailhead is paved and safe for children. 

 

Yosemite Sugar Pine Railroad: 

The Yosemite Sugar Pine Railroad is a historic, fun-filled activity for the entire family, just 10 minutes from the southern entrance of Yosemite. You can learn all about the area's history on a narrated tour with your conductor. The railroad also offers gold panning, an on-site rail museum and a collectibles store. 

 

Tenaya Lake: 

This mile-long alpine lake is located between Yosemite Valley and Tuolumne Meadows. If your kids are begging for a day in the sand, Tenaya Lake is a great spot for some relaxation, kayaking and swim time.

 
2. Grand Canyon National Park – Arizona
This wonder of the world is an awe-inspiring combination of layered geological color and erosional forms, revealing years of geological history. The Grand Canyon spans 277 miles. Each of its 4 rims bring a unique perspective and fresh air. Here are a few spots the whole family can enjoy:
Horseshoe Bend: Horseshoe Bend is a horseshoe-shaped meander formed by the Colorado River located on the East Rim of the Grand Canyon. The hike to see this view is a 1.5 mile round-trip over a hardened path. As with any hike, be prepared with sun protection shirts, plenty of water, and quality footwear.
Grand Canyon Skywalk: The Grand Canyon Skywalk is a horseshoe shaped bridge with a glass walkway near the West Rim of the canyon. This attraction is perfect for an adventurous little one in search of an adrenaline rush. 
Grand Canyon Railway: Are you a history junkie? The Grand Canyon Railway is a trip back in time on a heritage railroad with restored rail cars. Out your window you'll see all kinds of sights on your way to the South Rim. 
3. Rocky Mountain National Park – Colorado
Rocky Mountain National Park is one of the most visited national parks in the country. With hundreds of mountain peaks and wildlife roaming throughout, this park inspires an undeniable sense of wanderlust. A few spots you won't want to miss on your family trip: 
Longs Peak: Longs Peak towers above all other peaks in Rocky Mountain National Park. The top can be seen from almost anywhere in the park. The park can get chilly in cooler months so be sure to pack a

 

thermal hoodie. 
Dream Lake: It's all in the name. With a beautiful backdrop of Hallett Peak, Dream Lake is nothing short of a dream. This area is one of the most photographed places in the park and makes a great place for family photos. 
4. Yellowstone National Park - Wyoming, Montana, and Idaho
The world's first national park is beloved by many for its abundance of wildlife and natural wonders. There's plenty to do and see in Yellowstone National Park from active geysers to wild bison. It's sure to be a memorable trip for all. Be sure to hit some of the best spots:  
Old Faithful: A legendary geyser that erupts on schedule? Nothing like a little explosion to capture the interest of your kids. Old Faithful gets its name for its frequent and predictable eruptions. This iconic attraction draws in crowds so be sure to pack a performance shirt for the time in the sun. 
Grand Prismatic Spring: The Grand Prismatic Spring is a hot spring known for its striking coloration. Vibrant blue greens, oranges, and yellows fill the spring. This place is seemingly unreal and just plain awesome. 
Yellowstone Lake: This one's for the boating and fishing enthusiasts. Visit Yellowstone's largest body of water and covers 136 square miles for breath-taking views and an unmatched experience. There's also 110 miles of shoreline for the kids to burn off some energy. 
5. Olympic National Park – Washington
Olympic National Park covers nearly one million acres with three distinct ecosystems: mountains, coastline, and forests. It's a nature-lover's dream to explore. Here's a little something from each: 
Hurricane Ridge: The mountainous Hurricane Ridge is one of the most visited places in the park. The ridge is open to hiking, skiing, and snowboarding. There are family-friendly trails of varying distances and a range of difficulty. 
Ruby Beach: The coastal part of Olympic National Park is covered in jaw-dropping rock formations and weathered driftwood. The beach gets its name from the ruby-like crystals in the beach sand. Show love for yourself and this lovely environment with eco-friendly shirts for the whole gang.
Olympic National Forest: Olympic National Forest is about as lush and green as they come. The landscape of the forest varies making for an exciting hike. 
6. Great Smoky Mountains National Park - North Carolina and Tennessee
The Great Smoky Mountains are world renowned for their diversity of wildlife and ancient mountains. This park features cascading waterfalls and impeccable views that make for great hikes.
Cades Cove: Cades Cove is a valley in the Tennessee part of the park. The valley was home to settlers before it became one of the most popular destinations for park visitors. 
7. Acadia National Park – Maine
Acadia National Park is a Maine coast preserve primarily on Maine's Mount Desert Island. It's landscape features woodlands, rocky beaches, and glacier-capped mountain peaks. There are plenty of places and activities for the crew to enjoy here. 
Bass Harbor Head Lighthouses: The cliffside Bass Harbor Head Lighthouse is one of the most iconic landmarks in this park. The light station makes a great place for sunset viewing.
Jordan Pond: Jordan Pond has a distinct and serene beauty about it. The pond's clear water gives the area a refreshing feel. Perfect place for the kids to explore and parents to unwind. 
8. Zion National Park – Utah
Zion National Park is in southern Utah. This park has a rich history and pink and red sandstone cliffs that climb into a blue sky. Here's a few paths to follow to make the most of your time here: 
The Narrows: This is the narrowest section of Zion Canyon. You can hike through the Narrows, but you will have to hike through the Virgin River. Perfect way to add a little splash of fun to your kids day.
Angels Landing: Angels Landing is an unforgettable adventure. A trail cut into rock leads to the top of Angels Landing with a view of Zion Canyon. This hike is considered more difficult and would be best to complete with older kids. 
9. Crater Lake National Park – Oregon
Crater lake is awe inspiring. This is the most pristine lake on earth with a fascinating story behind its formation - a volcanic eruption triggered the collapse of a peak.  
Wizard Island: Wizard Island was created when Crater Lake filled with water after the volcano collapsed. You can get to the island on the Crater Lake Boat tour. On Wizard Island you can enjoy panoramic views of Crater Lake. 
10. Everglades National Park – Florida
The Everglades is an American National Park created to protect a fragile ecosystem. Today the park protects the southern 20% of the original everglades. A trip to the largest tropical wilderness in the US wouldn't be complete without one of our moisture-wicking tees. 
Plan Your Trip
While this top 10 list of national parks for families includes our favorite picks, there are likely amazing parks close to you. Search the interactive map on the National Park Service website and start planning your epic adventure.  
Here's to adventure, 
Erin Geoghan