Journal
6 Favorite Fall Foliage Hikes for Families
by 20North Marketing Collaborator on Sep 07, 2021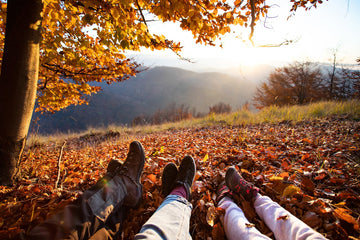 You know that "America the Beautiful" song that talks about purple mountain majesties and amber waves of grain? It needs a line about splendid fall foliage in there. Our country veritably explodes with premium leaf-peeping ops every autumn.  
While fall foliage hikes in the U.S. are plenty, we narrowed it down to our favorite six. After much research, thought and debate, we used a highly scientific method to land on the six we selected: we like their names.  
For each of the destinations, we serve up a general overview, a fun fact, and what you want to wear to make the most of your hike. Eco-friendly shirts are always spot-on for outdoor adventures. It's like giving Mother Earth a big thumbs-up that you appreciate and want to do what you can to preserve her natural beauty.
That said, here come our fave six fall foliage hikes (in no particular order). 
1. Acadia National Park: Maine
Crisp weather, lighter-than-summer crowds and fall foliage that knocks your socks off are the top three reasons to visit Acadia National Park in autumn. Early September weather hits the low 70s, and temps keep going down from there. Lightweight puffer vest recommended. Add a sun gaiter for facial protection. 
Boasting more than 49,000 acres of terrestrial delight, this park delivers more than enough elbow room for you, your kids—and even your extended family if desired. Leaf-peeping with mother-in-law, anyone? 
Fun Acadia National Park Fact:
Acadia was the first national park created along a U.S. coastline. 
2. Blue Hills Reservation: Massachusetts
Double your leaf-peeping fun by topping off a day exploring natural beauty with a bowl of Boston baked beans. Yep, Blue Hills Reservation is a scant 30 minutes from Boston. So close, in fact, you can see the city's skyline peeking out from behind the miles and miles of reds, golds, orange and yellows capping off the trees. 
Another perk is the plain but informative website, which gives you and your family a readymade trail selection. Choose easy-peasy, this-works-up-a-sweat, or why-the-heck-did-we-pick-this-one trail options. 
Whichever trail your crew selects, don your moisture-wicking long-sleeve shirts so you're not all sweaty when you head to the city for your baked bean dinner. 
Blue Hills Reservation Fun Fact:
The reservation's Great Blue is the highest peak on the Atlantic coast south of Maine.  
3. Sugarloaf Mountain: Michigan
If you'd rather get a glimpse of glistening water instead of a glimmering city on your fall foliage hike, take your kin to Michigan. A trek to the top of Sugarloaf Mountain rewards you with a vibrant view of stunning landscape, including Lake Superior.
The trail on the way to the top is embraced by a magical, mysterious-feeling forest canopy. Imagine all the stories of elves and gnomes and fairies you could share as you wind your way to the peak. Make sure you're dressed up dandily to meet them, sporting your very best women's long-sleeve sun protection shirt. 
Sugarloaf Mountain Fun Fact: 
A wooden viewing platform graces the top of Sugarloaf Mountain, giving you a variety of angles and solid ground from which to snap sensational selfies. 
4. Ptarmigan Lake: Colorado
For a 6-mile stretch of glory on display, take your family to Ptarmigan Lake. We're talking about the Ptarmigan Lake trail in Colorado—not the one Google gives you in Alaska—and it's a gorgeous choice indeed. 
Climbing the trail is like walking through an ever-changing movie set. Start at the lowest elevation surrounded by trees. Go higher and the trees thin, eventually giving way to sprawling meadows. 
You'll get a glimpse of the lake about halfway up your climb and keep getting closer from there. Since you move out of the trees and into the open air, long-sleeve sun protection shirts are a must for this one. You'll also want to don a pair of women's leggings with pockets so you can bring along extra accessories.   
Ptarmigan Lake Fun Fact:
Ptarmigan Lake is rated as one of the best fall hikes in the entire state of Colorado—and that means a LOT in the Rocky Mountain State.

5. Great Smoky Mountains: Tennessee & North Carolina
So many trees. So many trails. So little time! You can spend as much time as you wish at Great Smoky Mountains National Park. And you may want to plan an extended vacay. It does stretch over two different states, after all. 
No matter where you roam within the park, you'll get a colorful eyeful of birch, beech, maple—and more. You'll also get a chance to trek down part of the Appalachian Trial, take in a massive array of different plant life, and perhaps even spot a few woodsy critters along the way.
Oh, and if you do make it an extended vacay, don't forget to pack your women's, men's and kids' long-sleeve sun protection shirts. 
Great Smoky Mountains Fun Fact:
The celebrated Great Smoky Mountains ranks as America's most-visited national park. 
6. Falls Creek Falls: Washington
Not only is the name too much fun (try saying it five times fast), but the rewards along the Falls Creek Falls trail are to die for. You get. To see. Four waterfalls. That's right. The name also lives up to its name (and then some).
The hike gives you plenty to view in addition to the waterfalls, too. Thick forests. Babbling creeks. A bubbling river. Pines, ferns and all those things you expect in a woodland setting.
Popular for hikes as well as mountain bikes, the trail provides a one-stop shop for outdoor adventure. Be sure to wear your performance shirts on this one. 
Falls Creek Falls Fun Fact: 
At 335 feet, Falls Creek Falls is one of the highest waterfalls in southern Washington. 
Track Fall Foliage Near You
If you want to stick closer to home and want to find out when fall foliage will be at its peak in your area? Check out the Smoky Mountains Fall Foliage Prediction Map. 
Now, Get Your Gear Ready
Now that you know where to soak in the most magnificent fall foliage in the country, there's only one thing left to do. Make sure your family is set with hiking boots, durable pants and long-sleeve sun protection shirts to best enjoy the adventure.