Journal
10 Best Tailgating Tips for College Football Game Day
by Allison Oliverius on Sep 02, 2022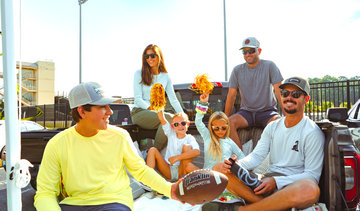 College football game day has many time-honored traditions. From the marching band to the cheerleaders to the thrill of winning or the sting of defeat, there's something special about spending a Saturday afternoon screaming your head off for your team. 
And no matter which college football team you pull for, there's something all fans have in common: We all love a good tailgate.  
Let's be honest, for some of us, the best part of the day is the pre-game party where you can eat, drink, and be merry before heading into the stadium. So, whether you're new to tailgating or looking to step your game up, we have you covered.  
Check out our tips for creating the best college football tailgating experience. 
Your Tailgating Guide for College Football Season
1. Get there early
Setting up your tailgate early is key to getting a good spot. You want to be close enough to the stadium so you can hear the band and the crowd, but not so close that you can't enjoy your own pre-game festivities. 
A good rule of thumb: If game time is at noon, aim to start tailgating around 9 a.m. This will give you plenty of time to set up and socialize before things really get going. 
2. Bring the essentials
No tailgate is complete without a few key items: 
Chairs or blankets to sit on

 

Coolers for food and drinks

 

Grill or portable stove

 

Tables

 

Games

 

Canopy or tent

 

Portable speaker

 

 
Remember that you can make your setup as low-key or as over-the-top as you want. Some people like to bring TVs so they can watch other games. Others prefer to just relax and catch up with friends. 
3. Make a menu
Now let's get to the fun stuff — food. 
Plan ahead and decide what you want to eat and drink. You can't go wrong with snacks like chips, dip, and pretzels; for drinks, water, soda, and beer are always popular choices. Will you be grilling? If so, make a shopping list of everything you need. Bring enough hot dogs and chicken wings for your group plus extra in case some friends drop by. 
Tip: Teamwork makes the dream work. Ask your friends and family to make their favorite dish (potato salad, anyone?) or bring their go-to beverage. 
4. Decorate your space
This isn't the time for subtlety. When it comes to tailgating college football, the more festive you get, the better. 
Here's how you can show your team spirit: 
Hang flags and banners from your canopy or tent

 

Put team stickers on your cooler

 

Break out the team-themed tablecloth

 

Slap a temporary tattoo on your arm

 

 
Most importantly, you'll want to dress the part by wearing your school's hat or jersey. Dedicated fans might even paint their faces or bodies with school colors.   
5. The games before THE game
Tailgating parties are a great opportunity to socialize with friends, family, and even rival fans from opposing teams. Bring yard games like corn hole or KanJam to get people interacting. If you have kids with you, pack a foam football or frisbee so they can run around and burn off some energy. 
General tailgate etiquette is to be respectful of your fellow fans. Make sure your group is staying within your designated space and not blocking anyone's view. 
6. Play some tunes
Music always gets people pumped up for the big game. Put together a playlist with your favorite pregame songs or create a Spotify station dedicated to your team. Penn State fans like to sing along to "Sweet Caroline" and ISU fans go crazy for "Callin' Baton Rouge."
7. Be prepared for the weather
Great weather makes for a great tailgate. But even if it's not looking so good, you can still have fun. Tarps or umbrellas will help keep your space dry in case it rains.
We always say football season has three seasons: Summer, Fall, and Winter. Our sun protection apparel and cozy layers make it easy to be prepared all season.  
When it's hot and sunny: Eco Sol UPF 50+ sun protection apparel is your best bet. It's lightweight, keeps you cool, and blocks UV rays all day. Choose from hoodies or long-sleeve shirts and feel good about wearing this sunscreen replacement that's made with recycled plastic bottles. 
For those perfect fall days: Start with an Eco Sol or Solar long sleeve or hoodie and add a layer from our 365 Collection. Pair joggers or leggings with pullover hoodies, ¼-zips, or our new full-zip hoodie. The fabric is so irresistibly soft, you'd never know it's 80% recycled fiber.  
And for wintery game days when it's blustery – or even snowing, our Beanies and Sherpa Fleece are the perfect outer layer.  
Check out our: 
8. Don't forget the little things
A few other items you might not think to pack, but could come in handy: 
Trash bags for cleanup

 

Bug spray

 

First-aid kit (just in case)

 

Hand sanitizer

 
When you're loading up the car, be sure to double check that you have everything. It's always better to err on the side of caution than to find yourself without something important. (Cough, paper towels, cough.) 
9. Clean up before you go
There's no bigger buzzkill than seeing trash all over the parking lot after a tailgate. Be sure to clean up your area before you head into the stadium. This includes disposing of any food waste, picking up garbage, and putting away all your tailgating gear. 
10. Have fun!
Whether your team is a perennial powerhouse or just starting to make some noise, college football tailgating is always a good time. The energy in the air, the cheering fans, the delicious food — it's all part of the experience. And the pageantry and tradition is even more special when you're surrounded by friends and family. 
Be safe and enjoy the game. Go team!