Journal
Meet Vapor's Team of College Athlete Brand Affiliates
by Allison Oliverius on Oct 25, 2023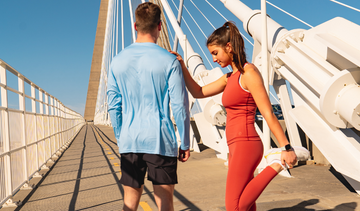 College athletes? They're basically real-life superheroes, and they've got the cape and the dedication to prove it. These student-athletes are like the unicorn of campus life, rocking both athletic prowess and academic excellence with a sprinkle of resilience that leaves us all in awe.  
That's why we've collaborated with a growing number of college athletes on a co-branded line of apparel. We respect what they represent and want to help them elevate their personal brands to new levels of recognition. Take a look at our athletes below and support them by shopping their gear!  
College Athletes or Superheroes? Both!
They're the folks who make the rest of us wonder if we've mastered the art of multitasking as they effortlessly balance 6 AM practice, late-night study marathons, and looking super stylish doing it. Oh, and let's not forget the pressure cooker of expectations – coaches, teammates, fans, they've got the whole squad cheering them on. These sports stars even brave the merciless glare of the spotlight, all while dodging injuries and keeping their dreams intact. 
But it's not just about winning; these athletes also score high marks when it comes to teaching us life lessons. Teamwork? Check. Discipline? Check. The pursuit of excellence? Checkmate. They don't just enrich their own lives; they give their colleges and communities an extra dose of swagger. It's not just about the sweat and the hustle; it's about the love for the game, the pride of their school, and the quest for knowledge. They might not all be destined for those big, fancy, multimillion-dollar contracts, but they play because it's what they love, and that's deserving of the utmost respect. These student-athletes aren't just athletes; they're the superheroes of our everyday lives, and they remind us of the virtues that we hold dear in our society. 
Meet Vapor Apparel's College Athlete Brand Affiliates
The way we look at it, our partnerships with college athletes are where creativity meets athleticism, and where the spirit of competition merges seamlessly with cutting-edge activewear. Meet them, follow them, and if you love them, shop their gear!

Makenzie Steele, Clemson University Cross Country & Track

As a dedicated student athlete in Cross Country and Track at Clemson University, Makenzie Steele balances a lot, and Vapor Apparel's activewear fits right in. This gear is the right mix of technical features, comfort, and style. Each piece features her Good Food Good Run logo. Plus, a portion of the proceeds from every shirt sold will go to Water Mission, an organization that brings safe water solutions to those in need.
Makenzie's passions lie within running and cooking, hence Good Food Good Run. Check her out on Instagram where she not only creates and posts healthy recipes, but she also gives you a glimpse into her life as a student athlete.
Jaylan Ford, University of Texas Linebacker
As a four-year linebacker at the University of Texas, Jaylan Ford has received several distinguished awards and recognitions while a member of the Longhorn football team. These include First-Team All-Conference, First-Team Academic All-Conference and this season being selected Preseason Big 12 Defensive Player of the Year and a member of the All-Big 12 Preseason Team. In addition, Jaylan was named to the preseason watch lists of the Butkus Award, Bednarick Award, Bronko Nagurski Trophy, Lombardi Award, Lott IMPACT Trophy, Lonestar Player of the Year, and Reese's Senior Bowl player of the week. He had four interceptions in 2022 to tie the Texas single-season record for a linebacker. 
 
Off the field, Jaylan is described by others as passionate, honorable and respectful, both of which are shown during his weekly visits to a local elementary school in Austin. 

Cole Turner, Clemson University Wide Receiver
Cole Turner surged onto the scene at Clemson as a wide receiver during his redshirt season in 2022 and now, as he embarks on the journey into 2023, he boasts a commendable track record. With a total of eight career receptions spanning 161 yards, all achieved in just 102 offensive snaps across three games, his impact is undeniable. Notably, he achieved a remarkable 100-yard performance in only his second appearance, a standout moment during the 2022 ACC Championship Game. Beyond his prowess on the field, Cole's dedication to both football and community service positions him as an authentic role.  
A portion of proceeds from every shirt sold will go to the Kevin Turner Foundation. This foundation raises awareness about the seriousness of brain trauma in athletes and its connection to ALS.