Journal
Get Ready for the 2023 Cooper River Bridge Run
by Allison Oliverius on Feb 24, 2023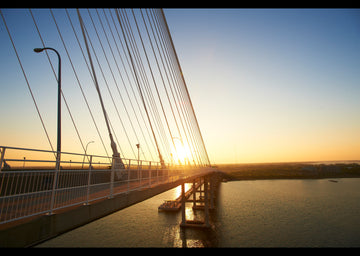 Run. Sweat. Walk. Sweet view. Run. Sweat. Walk. Finish. Cheers! That's the Cooper River Bridge Run for you – the 3rd largest 10K in the U.S. that's held right here in our hometown of Charleston, SC. Runners and walkers come from around the world to "get over it" and toast to success at the finish. What's the big deal? The iconic Arthur Ravenel Bridge, which has a section with a 5.6% slope. Check out our tips and get ready for the Cooper River Bridge Run. 
Green Aspect of the Race
Before we talk tips, let's talk trash. Around 82,000 plastic bottles of water are consumed each race. But rather than trash them, Vapor Apparel is providing green bins to collect them. We've partnered with RePower South to recycle them, and REPREVE to turn the recycled plastic bottles into yarn. We then use that yarn to make Eco Sol, our 100% recycled sun protection gear. More on that below. Let's get to the race tips. 
Get Ready for the Cooper River Bridge Run 
Best Strategy for the Slope
This bridge is a beast, so when you run it, think turtle not rabbit. It's 2.5 miles long, which makes it the third longest cable-stayed bridge in this part of the world. But when you're running or walking it, it's the slope that gets you. There's a section that's three tenths of a mile long that has a 5.6% slope. That might not sound like much, but if you live in an otherwise flat area – like the South Carolina Lowcountry – it's a beast. So, here are our tips for making it up and over.  
Lean forward and use short strides. Sure, you need to run hill repeats, run sprints, build muscle, and more while you're training. But when it comes down to race day, lean forward and take small steps. Do these two things to conquer the bridge and watch everyone else trying to barrel up the incline fall short of their goal.   
What to Wear
The race is always the first Saturday in April, so it could be 40 degrees or it could be 80. Our best advice is to wear layers. Our Eco Sol performance long-sleeve shirts and hoodies for men and women are built to wear on their own or together for extra insulation. They also have built-in UPF 50+ sun protection, which will shield your skin from UV rays whether it's 40 degrees or 80. You'll also love that our shirts are moisture-wicking and quick-drying. Our men's and women's leggings are also perfect for your run.  
Have kids racing? We have kids' performance gear, too! 
Drink Water – Even if It's Cold Outside
You know you need at least 64 ounces of water per day just to function. More depending on your weight and activity level. You also know you need to hydrate the whole week before your race. You can't cram a week's worth of water into one day. You won't actually be hydrated because, well, it will go right through you.  
So, hydrate the week leading up to the race. Drink 2-3 ML per pound of bodyweight before the race. Runner's World then says to "drink .4 to .8 liters of water for the first hour of the race." If it takes you longer than that to finish, "consume .5-1 liter of sports drink" to replace what you've sweat out.  
Once you drink your water or sports drink, don't throw away the bottle. Look for our bright green bins and recycle! 
What Happens to All Those Plastic Water Bottles?
Since it takes 450 years for a plastic bottle to degrade, we're doing our part to keep them out of landfills and waterways. We're putting those bright green bins along the race route and at the finish to collect the more than 80,000 plastic water bottles that will be consumed during the race. 
Then, our friends at RePower South will take all of the bottles deposited into the plastic green bins and will recycle them for us. Fun fact: RePower South has the ability to separate waste from recyclables, so the businesses and residential areas they serve can rest assured that everything that can be recycled - is.  
After the bottles are recycled, our friends at REPREVE will buy the clean plastic bottles and put them through a process that reduces the bottles to flake, then turns them into fiber, and ultimately yarn. Really soft yarn that's 100% made from recycled plastic water bottles.  
We then take the yarn from REPREVE, make fabric with it, and cut and sew our Eco Sol 100% recycled fiber sun protection shirts, hoodies, and accessories.
Fun Fact: 16 recycled plastic water bottles are used to make each 100% recycled fiber Eco Sol Long Sleeve. To learn more, check out this blog about How We Make Our Recycled Gear. 
What Else? Have Fun
Yes, the race is challenging. But the view is a stunner, the race finish festival is the bomb, and you'll wrap up the weekend knowing you've done a 10K and helped keep plastics out of landfills and waterways. That's a win-win no matter what place you finish. 
Quick Links:
Cooper River Bridge Run Registration 
Where to Get Your Packet: The Bridge Run Expo (Come visit our booth!)  
Cooper River Bridge Run Results