Journal
How Our Eco-Friendly Sun Protection Clothing Is Made
by 20North Marketing Collaborator on Oct 26, 2021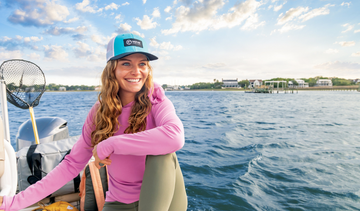 Guess what takes 450 years? No, we're not talking about how long it takes a stubborn significant other to see things your way and finally give in. We're talking about the time it takes for plastic bottles to degrade. Yikes is right!
When you think about all the plastic bottles discarded over the years, it kind of makes you want to scream, right? Well, you don't have to scream. You can do something even better to help reduce the blow to the earth. 
You can stock your closet with Eco Sol apparel. 
Do what?! Why? Here's the thing: 
Eco Sol apparel is built with REPREVE technology, which turns plastic water bottles into recycled fiber. That's right. It transforms a crummy situation into cool-as-heck clothing, specifically a sustainable clothing collection created for the environment and your adventurous spirit. 
Problem by the Numbers
Discarded plastic bottles are easily a crummy situation. Here's a look at just how crummy the problem is:
35 billion: Number of plastic bottles thrown away every year in America
1,000 years: Time it could take all those billions of bottles to degrade
10 million: Number of tears we're crying over all that waste
Solution by the Numbers
In addition to saving us from shedding 10 million tears, REPREVE's brilliant solution also helps save the earth. REPREVE is made by Unifi, a leading global textile solutions company. 
25 billion: Number of plastic bottles recycled by Unifi (so far!)
5: Number of times 1 billion 8-inch plastic bottles would circle the earth, if placed end-to-end 
125: Number of times 25 billion plastic bottles would circle the earth
Yep. That's a big solution
How Is REPREVE Made?
Knowing REPREVE fiber is made from recycled plastic bottles is fantastic. Knowing how it's made is even better. Here's the rundown:
Plastic bottles are sorted, washed and chopped into flake.
The cleaned flakes are mixed, melted and transformed into REPREVE recycled chips.
The chips are loaded into silos, with a single silo holding the equivalent of 27 million plastic bottles.
Chips then enter Unifi's extrusion and texturing process, where they're turned into fibers with built-in performance properties. 
Fibers are then used to create the coolest clothing, like Eco Sol apparel.
One more note: REPREVE is the only eco-performance fiber with U TRUST verification, which certifies the fabric is indeed constructed out of recycled content. Nice. 
Why Eco Sol Rocks
As if the fact that our Eco Sol line is made from recycled plastic bottles isn't amazing enough, there are still more benefits to be had.
Built-in Performance Properties: Earlier we mentioned how REPREVE came with built-in performance properties, but we didn't mention what they were. Here goes! 
The performance properties make the fabric the perfect pick for all types of athletic and outdoor adventures. These properties include:
Wicking properties, which you can find in items like our moisture-wicking long sleeve shirt and Eco Sol sun gaiter to help keep you comfy and dry
Thermal regulation, which helps keep your body at the optimum comfort level, a must for eco-friendly shirts built for play
Odor control, a fabulous feature found in our Eco Sol performance T-shirt collection; no explanation needed 
Cushioning, adding another layer of comfort to our sustainable clothing
Sun Protection: From our sun protection fishing shirts to our sun protection neck gaiter, all our delightful duds come with UV protection. And this must-have feature extends to our Eco Sol line. You'll find built-in UPF 50+ sun protection, the highest rating a fabric can get. 
Other Eco Sol Perks: Yes, there's still more. In addition to helping the earth, boasting multiple performance features, and coming with UPF 50+ sun protection, our Eco Sol line is:
Lightweight, leaving you free to run, jump and twirl in the breeze.
Soft, and we mean super-soft, buttery-soft; so soft you'll want to sleep in it!  
Multi-use, making it perfect for skiing or swimming or boating or…sleeping! 
Multi-season, working as an outer layer in the warmer months and as a layer option during cooler ones. 
Quick-drying, which is awesome for watersports and when giving garments a fast wash.  
Durable, standing up to multiple washings and whatever adventures you plan to bring its way. 
And Don't Forget Chic: The true-to-size cuts are flattering while still giving you plenty of room to move. Earth-inspired colors are designed to blend beautifully with your wardrobe and style.
As you're perusing our Eco Sol sustainable clothing line, you might notice another line called ECO BLEND. The ECO BLEND line of clothing is just as sustainable and amazing as its Eco Sol cousin. 
The only difference between the two is that Eco Sol comes with built-in UPF 50+ sun protection. All other perks remain the same. 
Your Next Move
Now that you have a good grasp of how Eco Sol sustainable clothing helps the earth, the next move is an easy one. 
You get to go shopping based on how many plastic bottles you and your family may have discarded over the years. Here's the formula that tells you how enthusiastically you can shop:
Calculate the total number of plastic bottles discarded.
Divide the number by 16.
Your answer is the approximate number of Eco Sol shirts you can buy to offset your bottle waste. 
A total of 16 plastic bottles are used to make one Eco Sol men's shirt, so you can adjust your total accordingly for different items. You can also check out the specific item descriptions on our site, where it tells you how many bottles were used to make a specific garment. 
Let's go through an example together. 
Perhaps you and your family discarded, say, 160 plastic bottles you can remember. 
Your starting number is 160.
Divide 160 by 16. 
Your total is 10. You'll offset the 160 bottles by purchasing 10 Eco Sol shirts.
Pretty nifty, right? It gets even more fun when you see the selection of sustainable clothing that awaits. Don't forget you can mix and match items as desired. 
Perhaps even throw in a few items from our other collections, like a tie-dye UV gaiter or ultra-soft long sleeve shirt. 
Whatever you choose, we have a feeling you're going to love it. And we have an even bigger feeling that the earth is going to love you right back.