Journal
Gifts Inspired by Love of the Outdoors
by 20North Marketing on Dec 08, 2021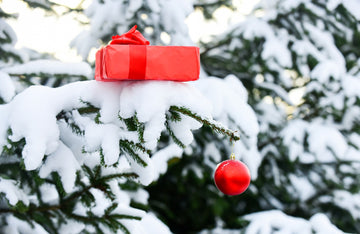 What's that? Got a few hard-to-pick-for recipients on your to-buy-for gift list? We feel you. Good thing we've got you and those giftees fully covered—kind of literally and metaphorically, especially if those giftees are the outdoorsy type. Our lineup of eco-friendly clothing and accessories makes great gift ideas, especially when paired with the gift of an outdoor adventure. 
Gifts for Her 
She's always on the go, so she needs a gift that goes with her and makes her outdoor adventure even more rewarding. From the lady in your life that's more often than not found traipsing through the wild on foot, to the girl on your list that is all about her yoga, these gifts are bound to impress. 
That chilly afternoon hike needs an extra layer, so make sure she's got a good layer of warmth with this sherpa pullover. This thing is super-soft, has a high collar, and still offers UV protection. We love the pollen color— a perfect pick for a free-spirited personality. A sunny mountain hike when the wind's a bit nippy will no doubt be more fun when she wears this pullover. 
With joggers like these, any landscape can become an adventure, seriously. These women's joggers are all about minimal interference for comfort, and they're loose-fit enough that they are perfect to pair with a good pair of base leggings. By the way, these joggers are multi-season and multi-use, and you can get them in squid Ink or olive branch. Rain or shine, cold or hot, she will love them. 
She's all about lightweight layers so she can peel off and add-to to stay comfortable no matter the elements. Perfect gift? This performance hoodie in squid ink. This hoodie even has a mock neck for added coverage and moisture-wicking abilities, which makes it an ideal piece for cold-weather adventures that make her sweat like skiing or snowshoeing. 
Ask any active female what one of the most important pieces of the apparel puzzle is. Go ahead, we'll wait. See, good leggings are life. Whether she's planning to layer these performance leggings or wear them all on their own, she's going to love the olive branch color, four-way stretch, and quick-drying abilities. 
Gifts for Him 
Know a dude that prefers a kayak and mountain bike over a couch? Worry not, dear gift-giver. Here are a few things he wouldn't mind having on hand for his next planned excursion. 
Too cold for an outdoor exploration? Never! At least not when he has this Sherpa hoodie in his backpack. The pullover is made out of warm fleece, which happens to come from recycled plastic bottles. The half-zip makes the hoodie easy to pull over other layers, and the added zippered pocket is a great spot for a phone. The natural color is our fave, but he may prefer new camo or slate. 
These slimmed-down joggers may not make it to the trail—these things are made for comfort and can be worn with just about anything. So don't be surprised if he's still wearing these Alto pollen joggers lounging on the couch after a big adventure. BUT, they do work great for layering when you're heading out to camp in chilly temps because of their construction and have side-leg, zip pockets for storage. 
Whether he's on his way out on the water to cast a line or just to the gym, he's going to find all kinds of uses for this olive-branch-colored performance hoodie. The material is thin, quick-drying, and ultra-durable, and, of course, it has that UPF 50+ sun protection.  
Cozy Gifts 
We know the type. Nothing slows them down, not even frigid temperatures. Check out these gifts for the skier, the snowshoe-wearer, or even just the jogger that runs even when their breath turns to snow. 
1. Women's and Men's Headwind Sherpa Pullover
Comfy, cozy, warm, and made out of recycled plastic—what's not to love? These pullovers will go anywhere they go and make sure they stay warm in the process. 
2. Women's and Men's Oasis Performance Hoodie
These performance hoodies are an all-out must when you need to layer for varying temps. The material is thin, so it doesn't restrict performance, but makes an awesome layer for blocking out biting wind. 
3. Women's and Men's Alto Jogger
Yep—these joggers make our list again for a totally different reason. These joggers are warm and cozy, and did we mention comfortable? You could literally go from cuddling by the fire straight to the sleeping bag in these babies and not miss a beat or catch a chill. 
4. Women's Mesa Performance Legging
If you want her to keep warm, it's all about good layers. These body-hugging leggings fit the bill because they slip right inside a pair of joggers or other bottoms without adding bulk. 
Gifts Under $50 
Running short on funds? Hey, we said we've got you covered no matter what. Here are some holiday gifts for the adventurous spirit that won't break the bank.  
The Eco Sol is the go-to performance shirt for men or women, but it's just as comfortable for everyday wear. The fabric is recycled fibers, but still offers sun protection for long days in the sun, anti-microbial qualities to deter sweaty stench, and works well for all seasons. 
Another Eco Sol must-have, this hoodie is just what you need for layering up and heading out. The material is lightweight and not restrictive, so it's great for jogging or mountain climbing, but it's also a nice layer of moisture-wicking protection. 
Go ahead, Seize the Ray with this trucker-style hat that any hat wearer could appreciate. This hat's a classic. Maybe we're partial because it's got our name on it, but, hey, we think any outdoor adventures would feel the same. 
There's nothing wrong with a good beanie when headed out in the cold. In fact, a good beanie is a key to maintaining body heat, and this one's actually got THERMA BLOC. So, even if you're best-good-gift-receiving friend is hanging off the side of an icy mountain, their noggin's going to be protected from the cold wind. 
Does your best adventure buddy have four legs? Don't forget to grab your furry friend a gift too. These bandanas are bound to make tails wag with their odor-resistant technology, and they come in multi-color prints. 
Keep your adventure-seeking pal protected from the sun all day and make sure they fit the part of an all-out adventure seeker. This cool boonie hat is made with ventilated fabric that protects from the sun and keeps the head nice and cool in the process. Plus, the wide brim helps shield the eyes and comes in either gray or khaki.