Journal
5 Winter Sports That are Hot This Year
by 20North Marketing on Dec 07, 2021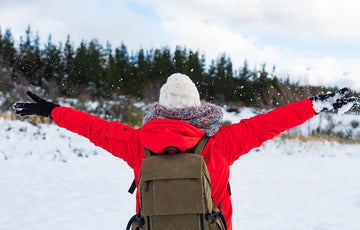 Anyone who says winter is only good for hibernating has never tried one of these five winter sports. Some are fun and easy. Others are fun and a little tough. But all are sure to make you want to get outside all season long, and these five are hot right now. 
1. Snowshoeing
Instead of trudging through the snow in leaky boots, try dancing on top of it in snowshoes. OK, you may not actually be dancing per se, but you will be enjoying faster and firmer footing as you trek across the whiteness to your heart's content. 
Snowshoeing used to be a main form of transportation across wintry landscapes, obviously back in the day before snow tires. It's making a comeback as a form of exercise and adventure that can be fun for the whole family.
The gear is easy to get—and it comes in cool colors. Old-school snowshoes were brown-beige things with a wooden frame and rawhide strips. New-fangled snowshoes typically feature aluminum frames outfitted with polyethylene. You can find them in purple. 
Outfit your whole family in snowshoes for a jaunt through the park, a trip up a hill or a few quick laps around the neighborhood. 
Rating: Easy
Top Perk: Burns more than 500 calories per hour
Gear: Snowshoes and poles
As with all winter sports, make sure you dress warmly. Don your performance T-shirt as one of the base layers, topped with your hooded sun shirt, sun protection leggings and UV gaiter. Oh yeah, don't forget the gloves. 
2. Fat Biking
Even the name sounds fun—although it doesn't involve eating lots of pizza and cake and then hopping on a bicycle. It involves riding a fat bike, or one that features fat tires that can whoosh and zoom across snow. 
Officially known as off-road bikes with extra-wide tires, fat bikes are good at crossing all types of terrain that would leave you stranded on your average skinny bike. Snow, frozen ground, slush and mud are just a few examples. Although slush and mud aren't really recommended for any bicycle ride. 
Unless you're ready to invest in a set of brand new fat bikes for the entire family, you can try to find a place that may rent them. Or buy one fat bike and take turns whooshing and whizzing over the powdery white ground.
Don't forget, you can still use a fat bike in other weather. They're great for riding across difficult terrain all year long. 
Rating: Medium to difficult 
Top Perks: Travel faster than snowshoeing 
Gear: Fat bike; helmet for good measure 
You really need to protect yourself from the elements with this winter sport. Fat bikes aren't known for their fenders, so a lot of wet spray is sure to be spraying. Think riding boots. Ski pants. Long-sleeve performance shirt. Sun protection neck gaiter. Waterproof parka.
3. Snowmobiling
If pedaling over the snow doesn't thrill you, how about zooming over the snow? Yes, snowmobiling counts as a sport. Kind of like a racecar for winter terrain. It can be a whole-family sport if the driver knows what they're doing and everyone wears their helmets.
You can also take it easy, going at more horse-and-buggy speed than rocket-to-Mars speed. Many places even offer snowmobiles for rent, so you don't have to buy one and then wonder where to put it in the summer. 
Instead of renting a snowmobile and then wondering where to ride it, try a snowmobile getaway that's specifically geared up for the activity. You have plenty of options across the nation where it snows.
Rating: Difficult, requires some practice 
Top Perks: Zoom, zoom, zoom! 
Gear: Snowmobile and helmet 
You know how you dressed for fat biking? Double it for snowmobiling. And maybe add a Sherpa pullover or two into the mix. 
4. Ice Skating
Ever see the way professional skaters glide over the ice with all that glory and grace? Well, that might not be you and kiddos on the nearby frozen creek, but you're still going to have tons of fun if you go ice skating.
Even though ice skating involves sharp metal blades, it's typically safer than snowmobiling. It's also a lot easier to engage in. All you need is a pair of skates and some ice. 
If you don't have a nearby frozen creek, do a quick search in your area for ice skating rinks. Heck, even Phoenix has an outdoor ice rink in winter. If you can find ice in the desert, chances are high you can find some near you. 
Rating: Medium, requires some practice 
Top Perks: Instant empowerment once you get it 
Gear: Ice skates   
While you may be tempted to wear those short, swirly skirts and sequined leotards you see in the Winter Olympics, something warmer might work better. Moms can layer up in women's joggers and women's sun protection shirts. The kiddos get kids' sun protection shirts. Dads can always don their sun protection fishing shirts. 
5. Snow Tubing
What do you get when you combine a round, inflatable tube and a hillside covered in snow? You got it: snow tubing! Like sledding, snow tubing involves barreling down a snow-covered hill. Unlike sledding, you get a soft, comfy tube instead of a hard plastic sled. 
You also have various ways to ride on down. Sit in your tube. Lay across your tube. Try to tilt your tube so it starts spinning on the way down the hill. Well, maybe skip that last one. 
Rating: Easy as pie 
Top Perks: Fast, laugh-inducing fun   
Gear: Snow tube 
Protection from the snow and sun is a must for snow tubing. Go for a UPF 50 long-sleeve shirt or lightweight UV hoodie as a layer. Don a sun gaiter for neck protection. You'll want boots.