Journal
What to Wear When Fishing
by Allison Oliverius on Feb 17, 2022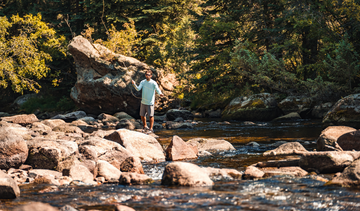 You've been angling to go fishing for quite some time, but there's one thing holding you back. No, it's not the idea of putting squiggly worms on a little hook. It's wondering what you should wear. While you have plenty of rugged and comfy clothes that work for many of your outdoor adventures, you're not sure if they're the right clothes to wear for fishing.
We'll be clearing that up right now, with a solid rundown on everything you need to know for dressing for a fishing trip. You get:
4 general clothing tips
7 must-have essentials that cover the basic clothing items
The right clothes to wear fishing in spring and summer
The right clothes to wear fishing in fall and winter
The right clothes to wear fishing in the rain
No matter the season or the forecast, these suggestions will keep you comfortable, dry and ready to focus on the most important aspect of the outing: reeling in your next big catch. 
4 General Clothing Tips
Whether you're fly-fishing in hot weather on the shore or on a fishing charter in cold weather in the rain, you want to follow these four general tips on all your trips. 
Go for windproof and waterproof. The word "proof" will be your favorite word, especially when it comes to a windproof and waterproof jacket that keeps you cozy and dry.
Fall in love with layering. Weather conditions can change throughout the day, with colder weather in the morning and hotter weather by high noon. Layers let you shed clothing items as needed to maintain a happy body temperature. 
Keep it comfy. Comfortable clothes and comfortable shoes ensure an equally comfortable fishing trip. You certainly don't want to be distracted by painful boots or an itchy sweatshirt when you're trying to reel in your big catch.
Seize the sun protection. This one's easy to remember in the bright sunshine, but it remains one of your essential items on cloudy days. Those UV rays can be sneaky. Show them you're even sneakier. 
The Basics: 7 Must-Have Essentials
The four general tips are good for an overall framework. And now it's time to give you more details about the clothing you need to make your fishing trip succeed. 
Notice you won't find items like designer boots and cashmere sweaters. That's because you're not trying to impress the fish—you're trying to catch them.
Here are seven must-have essential items no fisher worth their salt would go fishing without: 
Base layer shirt: Say yes to a soft, comfy, good-against-the-skin shirt that serves as the foundation of your entire fishing fashion statement.
Long or short-sleeved shirt: Opt for a lightweight T-shirt over your base layer shirt. Get bonus points for choosing an Eco Sol shirt that delivers comfort, durability and sun protection in one fell swoop.
Pants/shorts: Choose comfy pants or shorts for your bottoms, depending on the weather conditions. Can't decide? Wear one under the other—preferably the shorts under the pants—so you can take off the pants as needed or desired. Bonus points here for pockets, so you can stash your fishing license and motion sickness medication. 
Footwear: Your footwear again depends on weather conditions, along with the terrain. Are you fishing from a sandy beach or expecting to go up to your waist in a mucky ravine? Options can range from thigh-high wading boots to flip flops, with sneakers and hiking boots in between.
Gaiters: Remember that sun protection we mentioned? A neck gaiter is one of the most versatile pieces of fishing trip clothing you can own. Use it to protect your face and neck, or even to keep your hair back and out of your face.
Polarized Sunglasses: These are another must-have sun protection item, especially for fishing. Polarized lenses have a filter that protects your eyes by blocking horizontal light waves, like the kind that bounce off the smooth and shiny surface of the water. You can thank us later.
Hats: Hats give you another way to keep the sun out of your eyes and off your face. Trucker hats are an awesome choice, thanks to the wide brim, adjustable sizing and lightweight backing that lets your head breathe. Fish don't like to bite if you have a non-breathing head.
Fishing in Spring and Summer
While the basic fishing trip clothing you need stays the same, it does get edited a bit to match the season. If you're fishing in the warmer months of spring or summer, you're going to dress a bit differently than you would for fall or winter fishing. Here are the spring and summer add-ons you need. 
Sun protection shirt: A sun-protection shirt, like the Eco Sol shirts we mentioned earlier, is a must for sunny hot weather.  
Polarized sunglasses: Don't leave home without them! You need to be able to see the fish you're reeling in without that bothersome glare from the water. 
Hat: Trucker hats are perfect for hot weather fishing, giving you shade in the front and breathability in the back. 
Waders: If you've never experienced the joy of standing up to your waist in water and not getting wet, you need a pair of waders. Even if you have experienced it, you need another pair of waders. You can never have enough waders. Waders resemble overalls, with waterproof material that goes up to your chest. They make it easy and incredibly fun to fish directly from the water without becoming a soggy mess. 
Wader boots: Wader boots go together with waders. Or should we say leg-in-foot? Wader boots are specialized rubber boots designed to be worn with waders to keep out that pesky water. Look for soles with solid traction that won't slip about on the rocks. 
Solar gaiters: Spring and summer beg for a solar gaiter. You'll get sun protection for your neck and face, along with a fast-drying, moisture-wicking, breathable fabric. Sweet. 
Fishing in Fall and Winter
When the colder air and wind comes swishing, if you dress right—you can still go fishing. Dressing right in colder months means thicker layers, and more of them. You'll also want to adjust your accessories to match the chilly temps. 
Base layer: Your base layer is very important. It's going to be next to you the entire trip, so pick a breathable fabric that's comfy against your skin. 
Warm middle layer: A fleece hoodie is a good choice for a middle layer. 
Waterproof pants: Even if you're not wading into the water, you want waterproof pants to keep you warm and dry. You can find waterproof pants and waders in a variety of materials with different breathability levels and thicknesses.
Fishing gloves: Yes. Make that 10 yesses—one for each finger and thumb. Go for fingerless gloves so you can perform intricate operations, like baiting the hook and snapping pix of your ultimate catch. 
Outerwear: Remember that waterproof, windproof jacket we mentioned back at the beginning? Dig it out and put it on. If it's not warm enough, wear another middle layer. Or invest in a thicker, waterproof, windproof jacket with a removable liner for the greatest amount of versatility and comfort.
Warm hat: No fall or winter fishing trip would be complete without a cozy beanie on your head.  
Fleece gaiters: Trade your summer gaiter for a lightweight fleece gaiter. You get the same type of face and neck protection, but with a warm and wonderful feel. Go for a moisture-wicking fabric for the best results. 
Fishing in the Rain
When it comes to following your outdoor adventuresome spirit, a little rain isn't going to stop you. Neither is a lot of rain. It doesn't have to if you wear the right clothes for fishing in the rain. In short, you want rain gear. 
Waterproof pants: Waders are always an option, but they can be clunky if you don't need them for heading into the water. Choose rain pants that are easier to wear, like a sleek pair designed for hiking. 
Rain jacket or waterproof jacket: That waterproof jacket is sure getting a lot of mileage! It's going to be one of your favorite go-to items for your fishing trips. Adjust your base layer and middle layer as needed, depending on the weather and the weight of your jacket. 
Get Your Vapor Elemental Wear
Now that you have a good idea about the type of clothing you need for your fishing trip, your next step is easy. Get shopping! Thanks to your adventuresome spirit, you're sure to already have a few of the items you need. 
But there's never any harm in updating your outdoor wardrobe, especially when you're going to get tons of wear out of the items. We know you are. Especially the waders. As we said, once you experience the joy of standing up to your waist in water and not getting wet, there's no going back. Happy fishing!