Journal
Reeling in the Big Catch: A Beginner's Guide to Fishing
by 20North Marketing Collaborator on Sep 14, 2021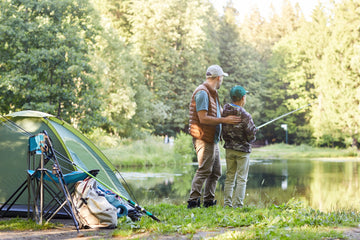 Woohoo! If this guide has caught your eye, you're thinking about embarking on that thrilling adventure known as fishing. Reeling in a magnificent catch can be thrilling indeed, but many say there's much more to it than that. Fishing can be a meditative sport that gives you a chance to step out of the daily grind and reconnect with nature—bringing home dinner is an added bonus.
What to Get Before You Go
Before you (figuratively) dive into your fishing adventure, you want to make sure you're properly prepared. You have several things to get before you go. 
A fishing license. Yeah, you want to make it legal. You need a license for whatever state you'll be fishing in, and you can typically buy them online. 
A fishing rod. Beginners do best with a spinning reel and rod combo. Otherwise you need to buy the rod and reel separately and get a big headache trying to put the two together.
Lures and bait. The lures and bait will differ, depending on what type of fish you're aiming to catch and where you're aiming to catch them. Lures are decoys that make fish pay attention to your hook. Think colorful little things shaped like fish, dragonflies or Pokémon Pikachu. Bait is the actual food you use to make fish bite. Think worms, crickets or handmade dough balls. Or you can try last week's meatloaf if you need a creative way to get rid of it. 
Bobbers. These small floating balls attach to your fishing line. When a fish bites, the bobber sinks. Get ready to hook and reel 'em in. 
Additional gear. Don't forget a rubber net to net the fish once you reel it in, needle-nose pliers to get your fish hook out of the fish's mouth, and a handy tackle box to store your lures, bait, bobbers and doodads that keep falling out of your pocket.  
The right outfit. Unless you're a big fan of sunburn and sweat, go for sun protection fishing shirts and a sun protection neck gaiter. A performance T-shirt works for warmer weather, while a moisture-wicking long sleeve shirt goes great with cooler temps. 
Add things like a fishing hat, waders and boots as you gain more experience and are up for making a killer fashion statement. 
You also want to select the type of fishing that best suits your style, personality and location. Hint: Don't opt for ice fishing if you live in South Florida or deep sea fishing in Michigan.  
Fly Fishing
Despite its name, you don't use real live flies for fly fishing. You use fancy lightweight lures that are called flies. They're pretty cool, all decked out with feathers and glitz. 
Because the lures are so lightweight, you need to learn specialized casting techniques that get the lure far enough out into the water without catching on the tree branches and reeds behind you.
Fly fishing can work in both freshwater and saltwater environments, as long as you wear your sun gaiter in either case. 
Deep Sea Fishing
This one is true to its name. You're fishing in the deep blue sea. The best way to do that is out on a boat, as it's tough to fish from an inflatable raft in the middle of the ocean. A UV gaiter is a must either way for this type of fishing. 
Go with a guide for the best beginner results. Guides have boats. And all kinds of high-tech equipment, like a fish finder. They're also smart enough to check the weather so you won't end up stranded in the Bermuda Triangle.
Saltwater Fishing in Other Areas
Saltwater fishing can also be done from the shore, from piers and jetties, or along reefs, flats and shallows. Just don't do it where 32 kids are splashing in the waves along the beach. It's also best to stay off bay-area overpasses with big "No Fishing" signs. 
Set your expectations based on your experience, which is none. One of the easiest saltwater fish to catch is the speckled sea trout. The hardest include the bonefish, the blue marlin and a 1,000-pound great white shark (especially from shore).
Freshwater Fishing
Ponds, lakes, rivers and streams all make for fantastic freshwater fishing spots. Heck, you can even take your kids down to the neighborhood creek and give it a shot. 
Freshwater fishing gives you the best opportunity to create one of those remember-forever Norman Rockwell moments. Envision it now: You in your camo long sleeve shirt. Your spouse and kids in matching eco-friendly shirts. A worm ready to be hooked that no one will touch. 
Ice Fishing
Ice fishing may conjure up snowmobiles and lots of beer. Avoid bringing both and you'll be a lot safer. Like skydiving, scaling skyscrapers and bull running, ice fishing may be one of those activities that may be more fun to read about than to do.
If you do go, make sure you know how thick the ice is before you start drilling a fishing hole. Or before you even step on it. Ice must be at least four inches thick to support walking or fishing. Even the best sun gaiter is no protection against what can happen on too-thin ice. 
Last Thoughts
One final thing you want to pay attention to is fishing etiquette. Don't crowd other people who are fishing. That's just rude. Give them at least 50 feet of space in a popular area, more if no one else is around. Don't let your kids or dogs run through their fishing lines, no matter how far away you may be.
Only keep as many fish as you can feasibly eat (or give to your coworkers). And always leave the area as clean as or cleaner than you found it. When retelling your fishing stories, only exaggerate the size of your catch by one inch per year. 
Also know the rules. Some areas only allow for certain types of angling, such as fly-fishing. Others may prohibit live bait. Do your research—and your shopping—before you go, and you'll be set for a fabulous time.