Journal
10 Essentials for an Epic Family Camping Trip
by 20North Marketing Collaborator on Jul 26, 2021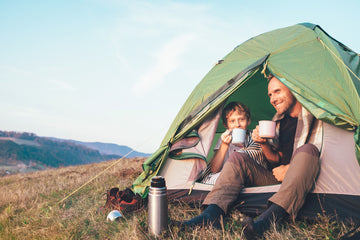 Camping: The art of getting closer to nature but farther away from the nearest hot shower and running toilet. Alright, all jokes aside: we're suckers for a good camping trip.
What could be better than a day filled with exploring the woods and an evening spent under a blanket of stars or by a campfire side with your loved ones? No baths and danger lurking around every tree. Not much can top that in our books, but if you've never camped with kids before, preparation for the trip can seem a little daunting. Nothing puts a damper on a trip like forgetting an essential piece of camping gear. Keep this list handy for your family camping trips so you can be sure you haven't missed a thing.
1. LED Lights
It's all fun and games until you're stumbling through the pitch-black woods, dropping f-bombs with your potty-training toddler. LED lights are the camping life hack you never knew you needed. LED bracelets, pendants, and headbands are some of our favorites. And if you just couldn't resist bringing the family pet along, they can even join in the fun with an LED collar. (p.s. That sounds adorable, and we'll need to see pictures). 
2. Washable Dinnerware
Nature does so much good for us. Reusable dishware is a great way to reciprocate some appreciation for the source of life's most incredible adventures. Affordable and easy to pack: recycled plastic camping dinnerware is more than worth the purchase. You'll help the environment, cut down on waste, and avoid mushy, flimsy paper plates—a total win-win. 
3. Allergy Protection
We love the great outdoors, but the allergies that can come along with it … not as much. Grass and tree allergens can be an irritating disruption to your family's camping trip. It's a real struggle, and sometimes allergy medication just doesn't do the trick.
Vapor Apparel's sun gaiters help prevent reactions to allergens, block dust/allergens, and prevent sunburn. There are even smaller versions of the UV gaiter with tons of color options for kids. Bonus: the gaiter rests comfortably around the neck, so you won't have to worry about your kid losing it within several hours of the trip. But we wouldn't know about kids dropping things from personal experience (wink, wink).
4. Lots of Wet Wipes
You'll use them…a lot of them. Trust us, several roasted marshmallows in, you'll thank us. Sticky fingers just don't seem to faze a little kid, and the next thing you know, the mess has spread from the marshmallow roaster to your iPad screen to their entire outfit. What's a little sugar when they can't bounce off the walls because there are no walls out here, you say? We agree, just make sure you bring a pallet of wet wipes for a comfortable camping trip. You're a parent; you get it. 
5. Bug Repellent
Oh wait, we forgot about bugs. No one likes bugs. Not sure about you, but our kids must be some mosquito magnet. It's no secret that you'll need some bug repellent – but which kind is right for you?
There are two options at our camp. The first is to stock up on bug sprays or wipes with DEET, essential oil bracelets (lemon eucalyptus works best), and your Vapor Apparel long-sleeve sun protection shirts to prevent mosquito bites. The second option is to use bug repellent lanterns and candles around the campsite to keep bugs at bay and away from food. A combination of both options is best to keep pesky flies and mosquitoes from crashing your family adventure.
6. Sun Protection
A sun shirt your kids won't complain about wearing. Yup, you read that right. Vapor Apparel's latest performance shirts and moisture-wicking long sleeve shirts provide stylish and comfortable sun protection to power your weekend adventure. They provide all-day UV protection for covered areas whether the shirt is wet or dry. Don't let the sun's harmful rays keep you from the joy of new experiences. Check out our long-sleeve sun protection shirts for the whole family.
7. Portable Chargers
Spotty and tough to flag down in the outdoors. Looks like kids and cell signal might have something in common. Luckily, you can avoid the "I'm-on-1%" scramble for a charger with a portable charger for the whole fam. These packs tend to hold about two to three smartphones' worth of juice for multiple uses. Just make sure to get a charger that is compatible with your electronic devices.
8. Two Coolers
A big one for food and a bigger one for beer. The end.
9. Extra Layers
An age-old debate: would you rather be too hot or too cold? Nothing puts a damper on the campfire faster than your kids whining about being too cold -- like all night, in the tent. Our take is all about a simple, practical solution. There are plenty of ways to layer up when the weather gets cooler. Plus, it gives an excuse to wrap up in a Vapor Apparel thermal hoodie or quarter-zip pullover, extra blankets, and jackets.
 10. A Large "Dry Bag"
Dry bags are a practically foolproof way to store wet clothes away from dirt or mud, especially with little ones around. Depending on what setup you like best, one big bag or several smaller ones will do the trick. 
Comfortable clothes are necessary to keep the adventure going. Check out Vapor Apparel's new arrivals and versatile performance wear. From women's leggings with pockets to the latest eco-friendly shirts, you'll find the perfect partner for your next adventure.
Carpe diem, 
Tyler Lacoma