Journal
Join Us for Our Summer Solstice Party June 21
by Allison Oliverius on Jun 15, 2023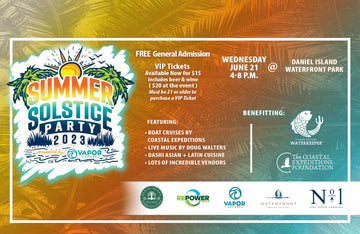 We're kicking off summer in a BIG WAY this year – on the Summer Solstice of course - and you're invited!  
Join us for live music, food, vendors, boat cruises, and more with proceeds benefitting Charleston Waterkeeper and the Coastal Expeditions Foundation. Bring your family and friends and kick off summer with us! 
Free General Admission. However, VIP Tickets include beer and wine. Get your VIP Ticket now for just $15. ($20 at the event.) Must be 21 or older to purchase VIP Ticket.  
E

verything you need to know for the Summer Solstice Party June 21

 
When

: June 21 from 4-8 p.m. This event is rain or shine.

 

Where:

 Daniel Island Waterfront Park, 101 River Landing Dr, Charleston, SC 29492

Pop-up Shops:

 

Vapor Apparel, 

Rheos

, 

Beachables

, ELU Cook Designs and more!

 

Food:

 Dashi Asian + Latin Cuisine, King of Pops

 

Live Music:

 Doug Walters

 

Tickets:

 Free Admission. However, VIP Tickets include beer and wine. $15 in advance and $20 the day-

of

. 

 



Our Summer Solstice Party Benefits Local Nonprofits

 
A portion of proceeds benefits Charleston Waterkeeper and the Coastal Expeditions Foundation, so come out and support these incredible organizations! 
Charleston Waterkeeper defends and restores Charleston's waterways so you can fish and swim without fear of pollution. Their team and crew of volunteers perform: water quality testing, habitat restoration, pollution reporting, and constantly advocate for clean water. Visit their website to learn more and see how you can get involved. 
The Coastal Expeditions Foundation's mission is to ensure that experiences with wildlife and the habitats we all share are accessible for all, and to provide opportunities for us to channel our collective passion for the environment into preserving and visiting these ecosystems for generations to come.

They do this through community service, education, and habitat and wildlife conservation. Visit their website to learn more and see how you can get involved.
Event-Only Tee with Proceeds Benefitting Charleston Waterkeeper and Coastal Expeditions Foundation
While you're at the Summer Solstice Party, be sure to pick up this Summer Solstice Shirt with proceeds benefitting Charleston Waterkeeper and Coastal Expeditions Foundation.
It's just $30 and only available at this event, so don't miss your chance to get this commemorative shirt. The graphic is printed on our super-soft 200-Mile Tee made with recycled plastic water bottles. We call it our 200-Mile Tee because it's made start to finish within 200 miles of our HQ in Charleston, SC.
Using recycled fiber is important to us - and the environment. In making our Eco Sol and 200-Mile Tees, we've been able to keep more than 6 million plastic bottles out of waterways and landfills. 
Book Your Summer Solstice Boat Cruise With Coastal Expeditions
During our Summer Solstice Party, take a leisurely cruise down the Wando River and out to the Charleston Harbor. You'll depart from the marina just off the Waterfront Park. Coastal Expeditions will take you along in search of bottlenose dolphins, pelicans, shorebirds and more! Your captain will share stories about the Holy City's history and identify the abundant wildlife that flies and swims by.
Boat Cruise Tickets must be purchased separately from VIP Tickets.
Featured Vendors 
Several incredible vendors are joining us at our 1st Annual Summer Solstice Party. We love these local brands and the ways they give back to our community.
Rheos Nautical Eyewear
Designed in Charleston, SC, Rheos Nautical Eyewear delivers optimal protection, clarity and comfort for a life spent on the water. Every detail is designed for thrill seekers and sun soakers, from the featherlight floating frames to our clearer-than-glass nylon lenses. All Rheos sunglasses are high quality, low cost, saltwater safe, polarized and provide UV protection. Co-founders, Jake and Becca Berton, and the Rheos team are committed to giving back to the place that they call home, the Lowcountry. A portion of every purchase is donated to causes that protect our land and water.
eluCook Designs
eluCook Designs brings you a unique way to keep a bit of the Lowcountry with you. Mount Pleasant artist Emily L.U. Cook fused sand from local beaches and glass together to create one-of-a-kind jewelry, artwork and home decor. She draws from the beautiful colors of our local landscape as inspiration. You can also purchase with a purpose: a portion of eluCook Designs proceeds benefit the Charleston chapter of the Surfrider Foundation, which works to keep our beaches and waterways clean and healthy for everyone.
Beachables
The revolutionary Beachable is a 3 in 1 tote, Turkish towel and chair cover, all-in-one. The oversized tote is large enough to carry all of your beach day items. The tote is designed with a longer handle so that it can be worn cross-body to distribute the weight of your beach gear and so it won't slip off your shoulder like most other beach bags, and the padded strap is comfortable even if you get a little too much sun.  The attached towel is a full-sized 100% cotton Turkish towel - perfect for the beach because the sand shakes right off, it's very absorbent and quick drying. When you roll the towel out of the tote pocket, just slip the pocket over the back of your chair and extend the towel over your chair where it will stay put on the chair throughout the day! When you are ready to go, simply roll the towel back into the tote pocket, fill with your beach day items, and you are ready to go.Beachables products are all handcrafted in the Carolinas from authentic Turkish materials. Beachables is a woman-owned, family business located in Charleston South Carolina. 
Blume Designs
Blume Designs opened in 2020 with the goal to "deliver happiness and create a one of a kind experience" to all of their clients in the Charleston area. They offer a wide range of services designed to exceed client expectations. The Blume Team takes pride in their commitment to quality service and providing a beautiful experience whether you need a traditional bouquet, a gift item, or full-service flowers for weddings and special events. They combine design concepts such as color, texture and depth with unique blooms to create beautiful artistry.
OME Gear
OME Gear was inspired by families heading to the beach weighed down and struggling to get all of their essentials from the car to the perfect beach or camping spot. So they created The Wanderr, a 5-in-1 recreational hauler so you can take everything you need with you on your outdoor adventure. 
The Wanderr embodies the core of our design philosophy: reliable, quality, and versatile products that make the outdoors more enjoyable, accessible and fun. Whether it's camping in a national park, tailgating at a football game, or fishing with your family, OME Gear is ready to help you explore with ease.