Journal
Top 10 Things to Do This Summer
by Allison Oliverius on Jun 28, 2023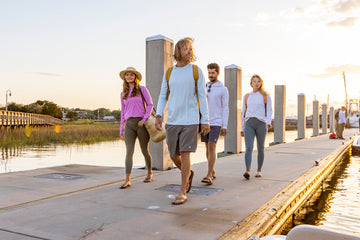 Some people spend their summers locked in the house with the TV on and the A/C pumping.
But not you.
You're the type that wants to get out and enjoy the warm weather while it lasts. You want to visit a new place, get outdoors, and embrace adventure. You know that longer days mean more time to do the things you love.
We get it — we're your people. Check out our list of the best things to do this summer for fun ideas to help you make the most of the season.
🎵 Need tunes for summer? 

Check out our Summer Playlist below!

 🎵
Our Favorite Summer Activities
1. Visit a local park
It's true what they say: the best part of your city or town is often right under your nose. This summer, explore the parks near you. Pack a cooler, bring a frisbee, and soak up some vitamin D. That big green space you've been meaning to visit is the perfect place to relax.
2. Get in the water
Maybe it's 95 degrees and the park just isn't cutting it. For fast relief on a hot summer day, get in the water: the ocean, a pool, or the hose in your own backyard. Let it be fun and unscheduled. Heck, you might even stay in until your fingers prune.
Speaking of water — 75% of Americans are chronically dehydrated. Yikes! Don't forget to drink lots of fluids during the hotter months.
3. Take a day trip
Sometimes getting in the car and driving a few hours is all it takes to feel like you're in a different world. Put those Summer Fridays to use and visit the destinations near you. Try something new while you're there: rock climbing, paddle boarding, zip lining, a new trail. Either way, there's bound to be something new to explore close by.
4. Have a picnic
Picnics are the perfect summer activity. They're romantic, easy to throw together, and you can do them just about anywhere. Make it a potluck and invite your friends, or keep it intimate with a special someone. Bonus points if you can find a spot with a view.
5. Rent a boat
If you're lucky enough to live near a body of water, take advantage of it! Rent a boat with a group of friends or your family for the afternoon. Whether you're fishing, swimming, or just cruising around, you're sure to have a good time.
Did you know that your sun exposure increases on a boat? That's because UV rays are reflected by the water. Protect yourself with an Eco Sol hoodie, shirt, or hat for complete coverage.
6. Start a garden
Gardening is a great way to get outside and do something productive. It's also incredibly satisfying to watch your plants grow. Get a few seeds in the ground and enjoy an abundance of juicy fruit and fresh vegetables all season. If you don't have a lot of space, you can always start small with a pot or window box.
7. Explore a farmers market
When the weather gets warm, farmers markets start popping up all over the place. Support your local community and get to know the growers in your area by stocking up on seasonal produce, fresh flowers, and more. You can even make it a weekly tradition and try a new food each time.
8. Attend local events
An outdoor concert under the night sky. A local county fair with hot dogs on paper plates. A baseball game and $1 beers.
Most cities have fun things to do all summer long, and they're usually pretty cheap. Check your local paper or do a quick search online to find out what's going on in your neck of the woods.
9. Enjoy an adrenaline rush
A lot of people use the summer months to relax. But maybe you're looking for some excitement. If so, a trip to a nearby amusement park or water park might be just what you need. Take in the view from the Ferris wheel and lose track of time on the lazy river. Just don't forget to reapply your sunscreen or gear up with a UPF 50+ sun protection shirt.
10. Spend time with the family
Summer is the season of play, and if you have children, you know they're always looking for something to do. Make the most of your time together with classic family activities like playing in the sprinklers, catching fireflies, or building a fort. You can even have the whole family over for a BBQ or scavenger hunt.
More ideas for the entire family:
Family movie or game night

Squirt gun/water balloon fight

Bike ride through the neighborhood

Fly a kite on the beach

Ice cream before dinner
Did you know that younger kids are more susceptible to heat exhaustion? They produce less sweat and are less likely to feel extreme heat. Never skimp on water, shade, or sunscreen when they're outside.
Last Few Tips: Sun Protection Clothing is Key
Your summer bucket list doesn't have to be super creative to be fun. Often, the activities we enjoy most are simple and nostalgic, which is what summer is all about.
The most important thing to remember is to stay safe in the sun. Be sure to apply sunscreen, drink plenty of water, and wear UPF 50+ sun protection clothing. Our solar gear for men and women has a seal of endorsement from the Skin Cancer Foundation and can protect you during all of your summer adventures.
Now get out there!
Looking for Some Tunes? Check Out Our Summer Playlist
Whether you're on the road, trail, or water, bring our summer playlist along with you! Introducing: Vapor Apparel Soundwaves Vol. 1. The first of many playlists to come.