Journal
Meet the Artist: AJ Wiley
by Allison Oliverius on Apr 22, 2021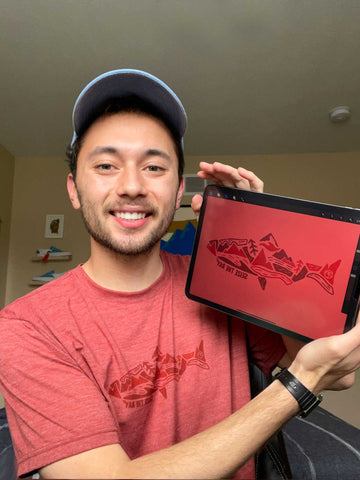 Vapor Apparel X AJ Wiley Collection
The Vapor Apparel X AJ Wiley Collection features six earth-inspired graphics printed on our ECO-BLEND tees which are made from recycled plastic water bottles. Meet the artist get insight on each design in the collection. 
"Vapor is great and we align on plenty of things both environmentally and artistically. It was awesome developing a collection and I'm excited to see where this goes. They're all lovely people to collab with and I hope for more projects in the future!" - AJ Wiley

Meet the Artist Behind the Designs
What is your background?  
I am a 23-year-old Japanese American designer from Lincoln, Nebraska.
When did you first decide you wanted to be an artist? 
Growing up I think I always found ways to be creative. It felt like a hobby until I needed to decide my major for college. I wasn't fully bought in to pursuing a creative field but I also had a voice telling me, "There's no other career you'd want to do." It wasn't until my junior year where I had found my passion within design.
What inspires your art?  
I have a variety of inspirations that led me to my style. I am particularly inspired by Japanese Kawaii culture, which is the idea of making cute and engaging looking characters. Pixar with their creativity and storytelling is also a big inspiration. Going on trips and experiencing nature first hand is also great.
Does your art represent something about you? 
I like to think I'm a guy that enjoys the simple things but also loves competition and fast pace living. I find that laughter and authenticity is essential for a healthy life and I want to express that through my work.
Describe the creative process behind your art.  
I like to describe my progressing work as sort of a pyramid I'm building. It's fun to explore new ideas and such but there's a lot of nature I've already drawn. Now that I've built the foundation, I like to explore different collabs and ways I can connect 2 different ideas to create a dynamic drawing. I normally pick 2 to 3 "subjects" then start drawing to find ways to integrate them together.
What is the best time/place ideas come to you? 
I think the shower is a great place but there's also ways I can't explain. Sometimes an idea will pop out of nowhere and I'll try to lock it in for the future.
What do you want people to take away from your art? 
I want them to leave with a couple things. One obviously I want them to find my art memorable and pleasant to look at but also a reminder to smile and to take care of our environment.
What does the environment mean to you and how does your art reflect this connection? 
I strongly believe that we as humans are meant to live harmoniously with nature. It can be medicinal in some ways and I know there are some habits we've developed that make it harder to experience what nature has to offer. I think it allows us to have an imagination and awe and I want to art to bring that emotion back to us even if we're stuck inside somewhere.
What do you like doing when you're not creating designs? 
I have a variety of things I enjoy outside of designing. I am a people person so I enjoy being around people and having meaningful conversations. I'm a competitive person and enjoy soccer, spikeball and video games. I'm also a talented napper (I can sleep any time of day without affecting my sleep cycle.)
What's your most memorable outdoor adventure? 
I've always been interested in the ocean and rivers because it's so vast and there's so much I can't see. There was a time I went white water rafting with some friends and we were on the brink of tipping over our raft in an extremely dangerous area. I remember the adrenaline it gave me and it was an awesome experience. 
Thanks for reading. Now, get outside and Seize the Ray! ☀️