Journal
Introducing: Vapor Apparel X AJ Wiley Graphic Tee Collection
by Allison Oliverius on Apr 26, 2021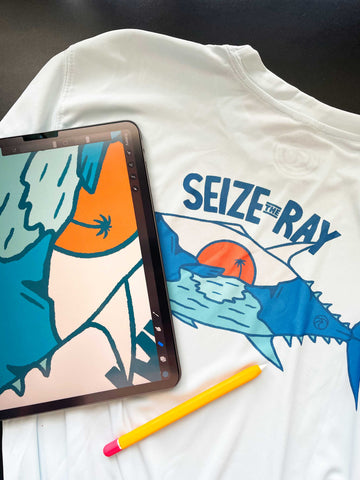 Custom Graphics Collection Inspired by the Outdoors & Printed on ECO-Friendly Tees
We collaborated with an incredible artist for our latest collection. Nebraska-native AJ Wiley designed six custom graphics with a perspective of the great outdoors that will inspire your sense of fun and adventure. Surfing penguin? Why not! Sunset Tuna? Absolutely. Explore all AJ's designs - and the inspiration behind them - below.
AJ shares our passion for a life lived outdoors while finding ways to protect the environment. We're excited to have his designs printed on a selection of our new ECO-friendly shirts and hoodies that are made from recycled plastic water bottles.
AJ Wiley's Graphic Inspiration
Being half-Japanese, I remember trips to Japan as a kid. I remember going to the grocery store and buying a bunch of candy and then going fishing with my grandpa. He's been gone for a number of years now but some of my fondest memories included catching fish with him. My inspiration for this design was being on the beach and enjoying what nature has to offer. I truly believe fish don't take the beauty of the ocean for granted so I don't think we should either.
16 Recycled water bottles were used to make this shirt.
This is a "Blue Marlin" (literally) and includes my signature "nature in an animal" style. One of my first designs ever was a salmon with mountains and waves in it and I decided to take a fresh whack at the concept again. I think Marlins are some of the coolest looking fish and I wanted to honor the breathtaking look these fish have.
17 Recycled water bottles were used to make this shirt.
This design was inspired by a great white shark. I wanted to use elements of our planet including waves, mountains and trees. My thought behind it was if these creatures could live in harmony with nature then we should be able to as well.
5 Recycled water bottles were used to make this shirt.
The more I work on my craft and live life, I learn to value balance. Having balance in the designs I make is important. We've all had those moments in life where it feels like everything just aligned perfectly. I wanted to show the perfect harmony of the sun, sand and ocean and how they work together all the time. It's important to take care of our planet and keep balance.
5 Recycled water bottles were used to make this shirt.
My first itch in entering the outdoor design world was my fascination with mountains. I loved how vast and wide they were. I'm not ashamed to say I have mountains in about 80% of my drawings. Sometimes we need to simply just enjoy what nature has to offer.
Recycled water bottles used to make this shirt: 5
As my style as an artist has evolved, I've tried to add more character and personality to my work. I love drawing things you would never see in real life and one of those concepts is a penguin surfboarding. I love seeing those videos of penguins sliding on their stomachs and I think penguins would be the animals to surf if they were capable. I found new interest in designing board shorts and surfboards and I wanted to show that off in this design as well. 
5 Recycled water bottles were used to make this shirt. 
What Are Eco Sol & ECO-BLEND?
By 2050, there could be more plastic in the ocean than fish. Devastating facts like this one led us to create Eco Sol UPF 50+ sun protection shirts and hoodies and ECO-BLEND cotton-feel tees. Both lines incorporate REPREVE® recycled fiber made from reclaimed plastic water bottles.
Through both lines, we've diverted 1 million plastic bottles from landfills and waterways. We've also created athleisure wear that allows you to look good, feel good, and do good each time you wear them.
Print Quality of Graphics
We're experts in sublimation printing. Our method of printing graphics onto our products means the print will not crack, fade or peel, even with exposure to the elements. 
Learn More About the Artist AJ Wiley
Check out our Meet the Artist blog to learn more about the creative mind behind the Vapor Apparel X AJ Wiley Collection.
Thanks for reading. Now, get outside and Seize the Ray! ☀️