Journal
Most Popular Outdoor Activities in 2021
by 20North Marketing Collaborator on Aug 18, 2021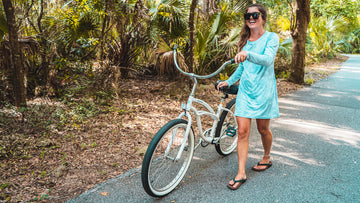 If there's one positive thing the pandemic brought us, it's a greater appreciation for the outdoors. Outdoor activities became our collective saving grace when many desperately needed a change of scenery. If you're looking for some inspiration to keep that love-of-the-outdoors momentum going, you've come to the right place. Here are some of the most popular outdoor activities in 2021 by participation rate:
Running, Jogging, Trail Running
No one can deny the physical benefits of running. Good for the heart, good for the bones, stress reliever, and the list goes on. But if you're not sold on the idea of a good run, let us help you think of it from a different perspective.
Running is a great way to explore, especially if you're on a trip to a new place. It's a chance to get to know the world around you more intimately, without as many distractions. Have you ever gone an extra mile or two down a local trail and thought, "since when was this here?!" You never know what you may discover around the next bend in the road. What once was a hidden gem discovered on a run could turn into one of your most coveted spots.
There are even free apps and websites that can help find running trails near you. Some of our favorites are:
Map My Run
Runkeeper
Nike Run Club
Life is full of beauty. Take this as your sign to get out and notice it. You may even see something unexpected.
Hiking
Hiking is one of the best ways to connect with yourself and the outdoors. Its soul-soothing qualities make it one of the most popular sources of refuge in America. Nature offers serenity, bliss, and an opportunity for mindfulness that is sometimes hard to come by in our busy lives. A good hike can truly energize your spirit.
You can even incorporate some of your off-trail interests to fully reap the benefits of nature. If you love to cook, spend some time dehydrating meals or finding ways to incorporate your favorite dishes into the trip. If you love to scrapbook, bring a bag for all your finds. Are you an avid reader? Bring a book. Are you the artistic type? Pack a small sketchbook for when inspiration strikes. All about comfort? Our women's leggings with pockets may be up your alley. Hiking can be so much more than just a walk through nature if you want it to be. But sometimes, that's exactly what you need.
Check out AllTrails for great hiking trails near you.
Freshwater, Saltwater, Fly Fishing
A baited question: why is fishing so popular? Simple answer: it's just plain fun. The allure of the challenge hooks some while many find fulfillment in mastering an outdoor skill. When you get to the heart of it, fishing is one of life's simple pleasures. Calm waters. Bonding time. A feeling of accomplishment when you reel in a catch. That's some bait a nature-lover can't resist.
A fishing trip can last anywhere from a few hours to a day-long affair. Long days outside inspire a life-long bond with the outdoors and require careful consideration of the sun's impact on your skin. Our sun protection fishing shirts provide lasting sun protection to put your mind at ease. A life lived under the sun is a life wellspent, so don't hesitate to get out and explore.
Road Biking, Mountain Biking, BMX
These cycling disciplines differ in intensity and riding experience but find common ground in a good serotonin boost. Things can get confusing if you're not super familiar with the cycling world. Here's a breakdown of what makes each of these activities so beloved:
Road Biking
Road biking welcomes biking veterans and newbies alike. As hobbies go, they don't get much healthier than road biking. It's easier on your body/joints and still provides a rush of cathartic release and great exercise. Outside time does wonders for our minds: lower stress levels and reduced depression and anxiety. Regular sunlight is proven to boost the feel-good hormone known as serotonin. You can enjoy your time out biking in the sun without raising your skin cancer risk by practicing sun safety with items like hats, eco-friendly shirts, and UV gaiters.
Mountain Biking
Mountain biking already experienced a rise in interest in the last decade, thanks to improvements in bike technology, increased trails and resources to find a trail and an introduction into the world of high school sports. The pandemic only added fuel to the mountain biking craze. Part of its appeal comes from the breadth of places you can ride and the different experiences you can have. It's a great way to get outside and add to your skillset, regardless of your age or current experience level. And you don't have to be an adrenaline junkie to enjoy mountain biking, although that can be a part of it.
BMX
Curious about BMX? (Sheesh, the name sounds intimidating to us too.) BMX is an acronym for bicycle motocross. Riders race on dirt tracks and do jumps, tricks, and turns to challenge their skills. It may not sound like it, but the whole family can enjoy this activity. BMX has expanded over the years and includes all different types that vary in risk, ability, and goal. Athletes come from all ages and skill levels. BMX Racing typically does not involve many tricks, and competitors aim to be the fastest on the course.
Car, Backyard, Backpacking and RV Camping
The camping cure. Technology impacts almost every area of our lives, including our sleep cycle and quality. Our bodies can get overwhelmed by overexposure to electronic content, even though technological advancements have benefited society in many ways. Camping is the best prescription for a much-needed sleep reset. Nothing a little fresh air and cozying up in a tent can't fix.
Pro tip: pack a quarter-zip or lightweight puffer vest for when it cools off at night. Performance shirts or moisture-wicking long sleeve shirts work well for day-time sun protection.
We love seeing so many budding outdoor and nature lovers. And for that, welcome. So excited to have you here.