Journal
Try Our Seize the Ray Fall Beer: A Vienna Lager
by Allison Oliverius on Sep 12, 2023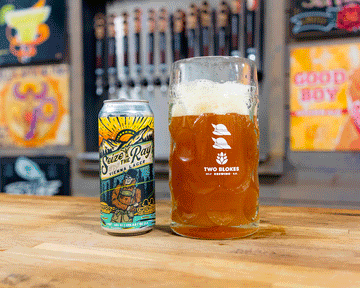 Did you know Vapor Apparel makes craft beer now? Oh yeah, we do! And thanks to our good friends at Two Blokes Brewing, we're launching our second Seize the Ray Beer of the year on Sept. 14. Our first brew, a Hazy IPA for summer was a big seller at Two Blokes, so, it left some big shoes to fill. But after sampling our brand-new Vienna Lager during the canning process, we think it's going to be a sellout, too. Prost!  
Scroll down for down for details on our:  
Seize the Ray Vienna Lager Launch Party on Sept. 14

 

Where you can try and buy the Seize the Ray Beer this fall

 

Where you can get must-have Bigfoot can art Graphic Tees (they always sell out!)

 

Details on the beer-making process

 
Seize the Ray Beer Launch Party + Oktoberfest Party
⁠
 
🍺 🎉 Join us at Two Blokes for the Beer Launch Party on Thursday, 9.14, and then all weekend for Oktoberfest beer, giveaways, food, music, 𝐞𝐯𝐞𝐧𝐭 𝐭𝐞𝐞𝐬, and fall activewear. ⁠ 
⁠ 
𝐋𝐨𝐜𝐚𝐭𝐢𝐨𝐧: Two Blokes Brewing, 547 Long Point Road #101, Mt. Pleasant, SC 29464⁠ 
⁠ 
𝐓𝐡𝐮𝐫𝐬𝐝𝐚𝐲, 9.14.23 5-8:30 p.m. ⁠ 
Vapor Apparel's Vienna Lager Launch Party. Try our fall Seize the Ray Beer and get the official Bigfoot Beer Can Art Graphic Tees! These sell out quickly! The @taternatortruck food truck will start serving at 5 p.m. and Cool Clyde begins playing music at 5:30 p.m.⁠ 
⁠ 
𝐅𝐫𝐢𝐝𝐚𝐲, 9.15.23 4-8:30 p.m. ⁠ 
The party continues with German beers, @jmacs.cbm cheesesteaks food truck, and Jokes @ Blokes Comedy Show. ⁠ 
⁠ 
𝐒𝐚𝐭𝐮𝐫𝐝𝐚𝐲, 9.16.23 12-10 p.m. ⁠ 
Big-time Blōktoberfest Celebration featuring Two Blokes' Blōktoberfest Marzen Beer, our Seize the Ray Vienna Lager, as well as a few other German-style offerings. A stein holding contest and special Two Blokes Steins for sale. Pretzel eating contest, live music by the Hans Schmidt German Polka Band, AND the Taproom Troubadours. Kielbasa, sausages, pierogi, stuffed cabbage rolls, and more from Krystyna's Polish Food Truck. Get your Seize the Ray Vienna Lager Graphic Tees before they sell out! ⁠ 
⁠ 
𝐒𝐮𝐧𝐝𝐚𝐲, 9.17.23 11-8 p.m. ⁠ 
The party continues with yoga, @daddys_chs for breakfast pop-up, football, and more Oktoberfest celebrations. 
Commemorative Blōktoberfest Beer Package
Two Blokes is featuring a commemorative package while supplies. For $75, you'll get:

 

A commemorative Two Blokes' Beer Stein (comes with refills)

 

A four-pack of your favorite Two Blokes beer

 

Your choice of Vapor Apparel x Two Blokes shirts (we suggest the beer can graphics, of course)!

 
Learn More About Our Vienna Lager
We've Done It Again! Our latest beer collab with Two Blokes Brewing is a 🍺 Vienna Lager called Seize the Ray that will be featured at Two Blokes during their Oktoberfest celebrations. ⁠ 
We started the process at the end of July. We arrived at Two Blokes on a Wednesday morning bright and early, and Brewer James Bridwell had everything prepped. We climbed up the ladder to reach the giant vat to help pour in the huge tubs of various grains and stir the mixture. Over the next few weeks, James and crew handled the mashing, extraction, hop addition, boiling, separation, cooking, aeration, fermentation, separation, aging, and more.  
In early September, the Vapor Crew went back to the brewery for the canning process. Before 10 a.m., we'd helped can, label, pack cases of beer, and sample one or two beers. I mean, we had to, right?  
The verdict? The Seize the Ray Vienna Lager is delicious.  
"In this Vienna Lager, we're using all-German malts," James the brewer said. "We've got Weyermann, Vienna's imported German malt. We've also got an imported German pilsner malt to give it that classic German feel. We also have imported German hops we're using to get a little bit of bitterness out of it. We want to keep it pretty palatable, easy-going and super drinkable. It should throw off a big spice, floral, perfumy flavors." 

"We wanted to create the classic German flavors you'd find in a Vienna Lager. In the end, we have a really crushable copper-colored lager that we hope everyone will enjoy," James said.

Seize the Ray Vienna Lager will be on tap this fall while supplies last, so don't miss out!
Beer Label Graphics, Tees, Stickers + More
Our in-house graphic designer Cassie Crane designed the Vienna Lager beer can label, which has also been used to make event graphic tees on Vapor Apparel Solar Long Sleeves and Solar Short Sleeve shirts, as well as super soft 200 Mile Tees, stickers, and hats. They'll all be on sale starting Sept. 14 and available while supplies last. (Our Beer Graphics always sell out, so don't miss it!)

Learn more about how our latest Beer Can Art came together from the designer herself.

Q: What was the inspo behind the Bigfoot-themed Vienna Lager can label?

Cassie: Vapor Apparel inspires to live for the weekend & to get outdoors, so I knew we wanted to continue that feel for this can like the last Seize the Ray Hazy IPA label with a surfer on it. I wanted to change it up though, from the Summer Surfer at the beach to Bigfoot in the mountains for the change in seasons. This beer was being released in September, so we were asked for it to fit into "fall" which gave me inspiration to do the hop/leaf pattern in the background but still felt related to first Seize the Ray can's pattern. With it being a fall beer, I knew there was a chance of it being meshed with maybe an "Oktoberfest" beer, so that's why I put Bigfoot into Lederhosen. Bigfoot is also sporting his Two Blokes hat & Rheos sunglasses, two local businesses Vapor is partnering with on various collabs.


Q: You're used to your art appearing on out graphic tees, but did you have fun making the graphic for a custom beer?
Cassie: I've really enjoyed getting to work on these beer labels. They both have definitely been my most fun projects I've had during the 8.5 years I've been at Vapor. I majored in Graphic Communications, but minored in Packaging Science at Clemson, so it has always been a dream of mine to design labels or packaging for alcohol because of all the fun creative labels you see out in the market today. In creating these labels, I always want to produce something I'm proud of, which gives me inspiration to make something really cool! I love my job, in that I'm able to get creative & love the Vapor family I work with that make it all even more fun.


Q: What do you think of the Vienna Lager?
Cassie: The Seize the Ray Vienna Lager is very tasty! Drinking it, I definitely feel like I'm ready to be next to a bonfire, wearing a flannel, in crisp fall air, tailgating at a football game. Very refreshing. Slight malty aroma, has me ready for fall!
History of Oktoberfest Celebrations
When fall hits, there are plenty of Oktoberfest celebrations to enjoy no matter where you live. In case you're wondering, here's a little history on how the tradition began. 

The History Channel tells us it began when a Bavarian Prince married and the royal family invited the people of Munich to join the celebration, which was held on large fields in front of the city gates. There was food, music, horse races, and more. Everyone had such an incredible time, they decided to repeat the festivities each year. Alcohol became a big part of the celebration over the years, but that's how Oktoberfest became a tradition. 

Fun fact: More than 2 million gallons of beer are consumed in Munich during Oktoberfest.

Get Ready to Seize the Ray This Fall
Vapor Apparel is your source for all the gear you'll need this fall. From outdoor beer festivals to hiking or boating, you need the right activewear for the season. Stock up on our base, mid, and outer layers that'll keep you comfy all fall, and will always protect you from the sun.
We collaborated with Two Blokes on a collection and their Brewer, James wears the Solar Long Sleeve whenever he's in the sun.
"I wear my Vapor Solar Long Sleeve Shirt all the time. Anytime I'm going somewhere and I know I'm going to be outside any period of time where I know I'm going to sweat or get sunburn, those are my go-tos," Two Blokes' Brewer James said.