Journal
Vapor Apparel's Impact Partnerships
by Allison Oliverius on Jul 17, 2023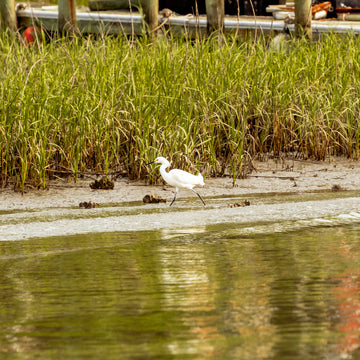 At Vapor Apparel, we take pride in collaborating with various nonprofits that share our dedication to preserving the outdoors and safeguarding the land, water, and people in our communities. Through our partnerships, we contribute a percentage of our proceeds to these remarkable organizations, empowering them to continue their invaluable work. Join us in supporting these inspiring endeavors as we strive to make a positive impact on the world we live in. Together, we can foster a better future for all.  
Impact Partner: Lowcountry Land Trust
Lowcountry Land Trust is dedicated to forging partnerships with landowners and community organizations, committing to the everlasting preservation and nurturing of coastal South Carolina's precious land. Established in 1986, they have steadfastly labored for over 35 years to safeguard the irreplaceable landscapes that lend South Carolina its extraordinary charm.
From humble beginnings, rallying to shield Alge Island on the Stono River, the organization has evolved into a formidable institution, conserving over 150,000 acres of coastal land and water. Iconic places like Angel Oak Preserve, Marshview Trail, Magnolia Park, and Community Garden now stand as eternal testaments to our mission's success, open to the public and forever protected by Lowcountry Land Trust.
With both private and public land preservation at our core, they champion the health of our coastal ecosystem and proudly embrace their identity as South Carolinians.
Check out the Lowcountry Land Trust Collection 
Impact Partner: I.CARE About Coral
Dedicated to the revival of Florida Keys' reefs, I.CARE takes the lead in vital activities such as coral transplanting, marine debris clean-ups, and comprehensive reef monitoring. By uniting the efforts of Islamorada's businesses, residents, and divers from across the nation, they strive to ensure the restoration of our reefs, leaving a lasting legacy for both present and future generations.
If you live in the Florida Keys, we invite you to explore their event schedule for opportunities to volunteer for trash pickup and coral restoration. Together, let's make a positive impact on the health and beauty of our precious marine ecosystem.
Check out the I.Care About Coral Collection
Impact Partner: Ocean Alliance
Ocean Alliance, Inc. is a 501 (c) 3 nonprofit organization, is on a mission to safeguard whales and their oceanic habitat through a multi-faceted approach encompassing research, scientific collaboration, public education, and artistic initiatives. 
Through their innovative "Drones for Whale Research" program, the Ocean Alliance develops non-invasive tools that gather crucial data on whales, enhancing our understanding of their ecological significance and devising effective protection measures amid the rapidly changing ocean environment. Among their groundbreaking initiatives is the "SnotBot" program, employing specially modified consumer drones to collect exhaled breath samples from whales onto petri dishes. This invaluable biological data provides key insights into the health of whales. 
With drones also measuring whale size and attaching data tags, Ocean Alliance's methods prove non-intrusive, safer for the whales, cost-effective, and pose minimal risk to researchers. Their unwavering commitment to whale preservation sets an inspiring example for the world.
Check out the Ocean Alliance Collection  
Impact Partner: Water Mission International
Through the support of donors, Water Mission transforms lives by providing safe, clean water to those who do not have access to it. 
Water Mission is a Christian engineering nonprofit that builds sustainable safe water solutions for people in developing countries, refugee camps, and disaster areas.
The availability of safe water is fundamental in fostering health and well-being, consequently paving the way for educational and economic prospects that hold the potential to break the chains of poverty. For over two decades, Water Mission has been tirelessly dedicated to this cause, positively impacting the lives of more than 7 million individuals across 57 countries. Through the provision of safe water and the spreading of the message of God's love, Water Mission continues to create lasting change and opportunities for communities in need.
Vapor Apparel gives up to 30% of every item sold to Water Mission. 
Check out the Water Mission International Collection    
Impact Partner: Military Order of the Purple Heart Fund
The Purple Heart Medal is presented to members of the armed forces for their sacrifice and valor. However, these brave Combat Wounded Veterans are often forgotten and left struggling to survive after they leave the military and re-enter civilian life. 
The mission of the MOPH Fund is to provide essential assistance to these veterans and their families by directly supporting the programs and services of the Military Order of the Purple Heart. They provide funds for programs across the country like: suicide awareness, advanced education scholarships, employment training, and veteran advocacy just to name a few. 
With your help, they can ensure that these programs are able to reach a greater population of Veterans and deliver the support they deserve.  
30% of all sales are donated back to the Military Order of the Purple Heart. Use code VETS10% for 10% off site-wide