Journal
8 Ways to Elevate Your Outdoors Experience with Our Wellness Apparel Collection
by Allison Oliverius on Aug 15, 2023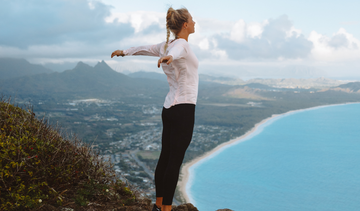 Vapor Apparel's Wellness Apparel Collection helps you embrace the outdoors with airy, quick-drying fabrics that also provide UPF 50+ sun protection. We have sustainability and tech covered, so you're free to dive into your favorite outdoor adventures like running, hiking, yoga, and nurture your well-being without a hitch. 
With August being National Wellness Month, it's the perfect time to shop the Wellness Collection!
8 Ways Vapor Apparel's Wellness Collection Helps You Stay Protected and Comfortable in UPF 50+ Fabric
1. Buttery-Soft Fabrics for Ultimate Comfort
Not all activewear is created equal. Ditch scratchy fabrics that stay soggy after a workout or become see-through when you stretch and bend. We design our fabrics to have all the technical properties you'd expect from your activewear, plus all the comfort. Our Sunwear and Elemental Wear are so buttery soft, you'll be tempted to wear them 24/7. And our 365 Fabric for leggings, tanks, joggers, and more features a four-way stretch to ensure you're always covered when you squat, stretch, and reach.  
2. Built-In Technical Qualities 
Our Sunwear provides SolarBloc® UPF 50+ sun protection on covered areas, plus has PURE-tech® cool-wicking and M-Shield® permanent odor control. These qualities are built into the fabric and only get better as you wash and wear our gear. 
3. UPF 50+ Sun Protection 
Did you know your risk of UV exposure increases up to 10% for every 1,000 feet of elevation? But if you're wearing our Sunwear and Elemental Wear, you're covered! Our gear has permanent SolarBloc® UPF 50+ sun protection whether the fabric is wet or dry. The protection only improves as the product is worn and washed. We're very proud of the fact that our fabrics carry the Skin Cancer Foundation's Seal of Recommendation, which means your skin is always safer in Vapor. 
4. Durability
Our Wellness Apparel Collection includes long-sleeve shirts and hoodies, as well as leggings, shorts, and joggers that are constructed with technical polyester. This durable fiber feels soft on your skin and is made to move with you without clinging or losing its shape. You can wear our Solar and Eco Sol shirts and hoodies in the sun all day all summer and they won't fade! 
5. Versatile Temperature Control
Layers are the key to staying comfortable outside and Vapor Apparel's gear is perfect for your favorite activities no matter the season. Cold weather? Excessive heat? We have you covered.  
Vapor Apparel's UPF 50+ sun protection shirts and hoodies incorporate a remarkable cooling technology designed to combat the summer heat. When the fabric becomes wet from water or sweat, the cooling technology kicks into action dropping the fabric temperature down to 70 degrees or less.   
The same shirt that keeps you cool in summer also locks in warmth in winter. Our gear is built to layer, so you can wear a Solar Shirt as a base layer followed by an Oasis Mid-Weight Long Sleeve or Hoodie. And when it's really cold, grab a Headwind Sherpa (back in stock soon by popular demand).  
6. Wellness Accessories
Enhance your wellness journey with essential accessories like hats and hair scrunchies.  
Don't allow unruly hair to hinder your adventure. Always have a scrunchie on your wrist for a swift ponytail or bun whenever needed. Crafted from surplus materials used in our Eco Sol long-sleeve shirts and hoodies, our scrunchies contribute to waste reduction. Additionally, the fabric comprises 100% recycled fibers sourced from plastic bottles, actively preventing plastic from infiltrating water bodies and landfills. 
As for our Refraction Performance Hats, they block the sun, repel the rain, and wick away moisture so you can keep the adventure going.
7. Stay Active in Style
Vapor Apparel's tops and bottoms combine style and function. Going for a run? Pair our Men's Practice Shorts with a Vapor Run Club Long Sleeve. Heading to yoga on the beach? Grab a Women's Oasis Tank and Mesa Leggings. Hitting the trail? Our Men's and Women's Camper Shorts are a quick-drying favorite. Just be sure to wear a base layer like our Eco Sol Long Sleeve and snag an Oasis mid-weight Long Sleeve for cooler temps as you hit higher altitudes. 
With our Wellness Collection, the sky's the limit. Our gear is so comfortable and allows for great mobility. There's also a ton of versatility when you mix and match within the collection or style with pieces you already own. Whether you're relaxing or getting active, our Wellness Collection features high-quality pieces that can serve as a base-, mid-, or top layer depending on the season and temperature. 
8. Sustainable Wellness
Vapor is committed to sustainable fashion, which benefits both personal and environmental wellness. Our Eco Sol UPF 50+ sun shirts and hoodies are built with REPREVE recycled fiber, which is made from recycled plastic bottles. Our 365 fabric is an 80% recycled collection that incorporates cotton and other fibers. As a result, we've kept more than 6 million plastic water bottles out of waterways and landfills, and counting!  
Looking for Ways to Enhance Your Wellness? 
Outdoor Activities to Try Instead of Hitting the Gym