Journal
11 Great Outdoor Activities to Try Instead of Hitting the Gym
by Allison Oliverius on Nov 09, 2021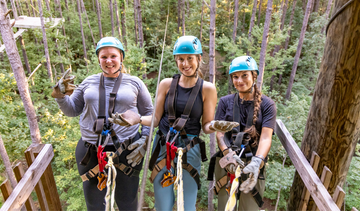 Exercise enlivens the spirit and lifts the soul, but the gym may not be the best place to do it. Sure, your gym activity will still get you that burst of oxygen, nutrients and feel-good endorphins that make you feel like a million bucks.
But taking that activity outside can make you feel like a billion, physically and emotionally. Even in the winter. 
Nature has a way of healing, soothing and restoring our souls in a way no indoor space can match. Heck, even putting a houseplant on your desk can make your workday less stressful. Being in the great outdoors with trees will naturally multiply that pleasant feeling exponentially. 
Here come 10 fun outdoor seasonal activities you can try next time you want to combine exercise with fresh air and sunshine. 
1. Zip Lining
Benefits of zip lining: Feeling like you're flying like a bird, seeing the world from a different vantage point, unplugging from your phone and plugging into the actual sights and sounds around you. Grinning like an idiot because you're having so much fun. 
It's true: zip lining isn't for everyone. But if you're OK with heights, some speed, you can have the time of your life. Choose a reputable company that offers guided tours so you can learn how to ride the zip line and break properly. 
Locally, we like Charleston Zip Line Adventures. Their knowledgeable (and hilarious) guides make it a true adventure. You know you're in safe hands, on a safe course, and can sit back in your harness and just have a blast! Screaming "yippee!!!" is not a requirement, but usually a common side effect. 
2. Adventure Racing
Also known as expedition racing, adventure racing is an intense race that takes you through all kinds of activities and terrain. The races can last hours—or weeks!—and they are held in every season, region and type of landscape. 
The adventures can range from paddling to climbing, skiing to mountain biking, running to rappelling. It all depends on the specific race you select. Give it a search and see what you find. 
3. Yoga Hikes
Yoga is a versatile, easy-to-incorporate outdoor activity you can do on water or dry ground. Taking a yoga hike simply means you're heading out on a hike through gorgeous scenery, and then stopping at some point to do some yoga poses. Bring hiking gear, a hooded sun shirt and your yoga mat. 
The same way yoga SUP enhances the paddle boarding experience, yoga hikes enhance the hiking experience. They also enhance the yoga experience, as you'll get to gaze at nature's brilliant backdrop rather than a yoga studio wall. And do tree post next to the trees!
4. Rock or Ice Climbing
Whether you ascend to great heights climbing up a rock face or a craggy chunk of ice, climbing is a year-round activity that can build muscle, stamina and plenty of courage. You'll want to outfit yourself with the right clothing and gear designed to climb whatever face you're aiming to climb. A long-sleeve performance shirt as a base layer works well in cooler weather. Don't forget the sun protection neck gaiter. 
Like other extreme sports, rock climbing is known for getting you into a state of flow—a mindset where you become hyper-aware of the moment as euphoria courses through your brain. Have fun. Go wild. But get training and go with a pro if you've never done it before. 
5. Rappelling
If you're the type that prefers starting at the top and working your way down, you'll want the opposite of climbing. That would be rappelling, also known as abseiling. This thrilling experience involves a controlled descent off a near-vertical drop. 
Yes, it's extreme. And yes, you can try it on ice. Like climbing, you'll want to get the right clothing, gear and training before you go.
6. Kayaking or Sculling
Yes, kayaking and sculling are two different things. But they both involve water and a boat. And they can both provide year-long bliss with the right gear and equipment. 
Kayaking is done by sitting facing forward in a kayak and paddling with a paddle. 
Sculling is done by sitting facing backward in a scull boat and rowing with an oar.
Either one lets you glide atop the water while getting plenty of upper-body exercise. You'll want a sun gaiter for this one. Also get men's and women's sun protection shirts for the adults, kids' sun protection shirts for the kiddos. 
7. Stand-Up Paddle Board Yoga (SUP Yoga)
Stand-up paddle board yoga involves floating around on a streamlined board while engaging in a series of yoga poses. Leash your paddle to your board—your hands are going to be busy. 
 Opt for a paddleboard specifically designed for yoga, which is slightly wider and blunter to provide better stability and more room to pose. Wear a bathing suit for yoga SUP in summer. Don a UPF 50 long-sleeve shirt and sun protection leggings in cooler weather. Get a UV gaiter for all-season wear. 
8. Fishing
Fishing is amazingly versatile, and it can also be amazingly calming and fun. Go solo or make it a family activity, bringing the right gear and pole to whatever body of water works best. 
Options range from fly fishing to ice fishing, with freshwater fishing and deep sea fishing in between. Don't forget the bait. Or the sun protection fishing shirts. 
9. Calisthenics in the Park
Unlike weight training at the gym that requires all kinds of equipment in an indoor environment, calisthenics requires no special equipment and can be performed outdoors. This type of exercise is a form of bodyweight resistance training, where you use your bodyweight and gravity to build strength.
Some nearby parks may have pull-up bars or other equipment you can use if desired, but you can also perform squats, crunches, lunges and other exercises that require bringing nothing but you. Oh, and a performance T-shirt and lightweight UV hoodie for good measure.  
10. Parkour
Parkour is the art of getting around several natural or manmade obstacles without using any fancy equipment—or any equipment at all. You can opt for natural obstacles in the landscape or create your own obstacles with whatever materials you see fit. 
Your goal is to pass over, around or atop the obstacles by running, climbing, vaulting, jumping, flipping or any other possible means. Yes, you want training on this one before giving it a whirl. 
11. Nordic Skiing, Nordic Walking
Nordic skiing is another name for cross-country skiing, a delightful winter activity that involves skis and Nordic poles. But you can also use your Nordic poles in warmer weather to go on what's called a Nordic walk. 
Nordic walking involves engaging in a specific kind of walking using the Nordic poles, an ideal way to enhance your posture, strength, flexibility and balance. It's also an ideal way to get extra mileage out of those Nordic poles for a tremendous return on investment. Our fitted performance long-sleeve shirt will keep your warm and protect you from the bright winter UV rays. 
Now that you see the range of activities you can enjoy in the great outdoors, your next step is to simply get out and enjoy them! Save the gym for a rainy day. Get out in that fresh air and sunshine.