Journal
5 Eco-Friendly Products We Love
by Allison Oliverius on Jun 04, 2021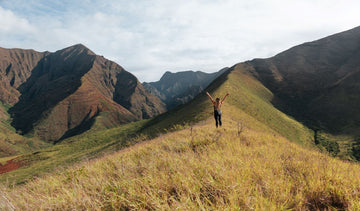 At Vapor Apparel, we believe that staying engaged in our sustainable habits is just as important as maintaining our fun-loving attitude toward the great outdoors. Now that we provide comfortable and functional clothing options for our eco-friendly followers, we also want to introduce you to like-minded brands. The following companies not only produce eco-friendly products, but they are also Charleston-based so you can support some of our neighbors!

The Earth Loves It, and So Do We!
What are some of the best-selling eco-friendly products? There are a number of them right in our own backyard. From sunglasses to yoga mats and from fishing gear to food bowls and water bottles, here are a few of our favorites.   
---
Nectar Sunglasses
Nectar Sunglasses started out in Atlanta, GA, and made its way to Charleston, SC. Its focus is on producing eye protection that reflects its East Coast roots. They plan to launch a line of shades made from recycled plastic. They recently partnered with Yoloha Yoga (another brand we love) to create a non-slip, cork-tipped, vegan-friendly pair of sunglasses.  
---
Yoloha Yoga
The founder of Yoloha Yoga has had a passion for sustainability and activity since a young age. Chris Willey put this combination to use when he created a yoga mat using cork. Cork Oak trees are the only trees in the world that can regenerate their bark after it has been stripped. That makes this product made in one of the most environmentally friendly methods possible. 
---
Toadfish Outfitters
Toadfish Outfitters offers a range of products that help you do everything from catch fish to eat it. Regardless of what you buy, each product they sell benefits our coastline. They recognize the importance of oysters in our ecosystem as cleaners and protectors, and for every product sold, they plant a new bed of oysters. With over 150,000 beds already planted, it is their mission to help us ensure a sustainable future. 
---
Healthy Human
Healthy Human is set on replacing the single-use plastics that we see in everyday life. Their highlight is the Healthy Human Bottle, which helps offset the 167 single-use water bottles that the average American buys in one year. They work with a "Recover and Recycle Program" that guarantees with each water bottle or cruiser tumbler you purchase, they "Recover and Recycle" 1kg of ocean plastic (equivalent to 80 plastic bottles). 
---
Rigwa Life
Similar to Healthy Human, Rigwa Life is dedicated to providing a replacement for single-use products. They created a BPA-free to-go bowl that keeps your food the temperature you want it! It is designed to be easy to carry with you as you enjoy life on-the-go. While keeping your needs in mind, Rigwa Life also promotes donations for "Feed the Children" in order to aid in ending childhood hunger.  
---
Vapor Apparel's Eco-Friendly Products
We're proud to be in such good company as brands around the globe focus on reducing, reusing, and recycling. Our new sustainable and functional lines Eco Sol and ECO-BLEND allow you to take on the day in a way that protects yourself, your community, and the world.
Our eco-friendly products use recycled technology which turns recycled water bottles into thread. We take that thread and make fabric for our 100% recycled line with UPF 50+ sun protection, our tri-blend Ultra Soft tee, and our bi-blend Classic tee. All are so soft on the skin, you won't believe they're made from recycled water bottles.
Explore our collection for men, women, as well as unisex styles to discover how many water bottles go into each shirt or hoodie. Take your pick from earth-inspired colors and styles that ensure you look good, feel good, and do good.   
Don't be a bystander any longer, play your part in keeping yourself and the world happy and healthy, and Seize the Ray!