Journal
Why Vapor Apparel Is the Best Sun Protective Wear
by Lee Ladyga on Sep 24, 2021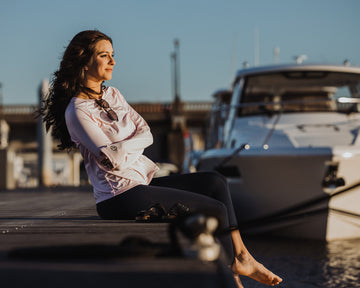 We know what you're thinking, based on the title of this blog post alone. You're expecting to get one of those blah-blah articles that just sits around telling you how great our clothing is and why you should buy it. 
That's not how we play. For starters, we don't just sit around—ever. Just like you, we run. We jump. We hike. We glide. We even do backbends and handstands (when properly warmed up first). 
And we're not going to tell you how great we are. We're going to tell you how great YOU can be if you slip into something from Vapor Apparel.  
1. You Can Channel Sunshine Superman
"Sunshine Superman" is a 1960s Donovan song that goes through our heads every time we put on a Vapor Apparel cover-up. Google it (the song, not the cover-up). The song title is also a good way to describe our strong and powerful sun protection fabrics. No tights or cape required.
A UPF 50+ rating is the highest fabrics can get, and we went there. You'll find maximum protection in our Solar Performance line, with duds delightfully ready to beach all day. Additional options include sun protection fishing shirts, a sun protection neck gaiter collection, and even sun protection bike shorts. 
For the record, UPF stands for ultraviolet protection factor, or the level of UVA and UVB rays that can get to your skin. With UPF 50, a scant 2% of the rays make it through. Yep, it blocks 98% of them. Sunshine Superman for sure. 
2. You Stay Cool and Dry
What good is clothing that protects you against the sun if all it does is make you sweat like a waterfall? None. That's why our fabrics are light and airy, with cool-wicking technology that adapts to temps to keep you cool and dry—no matter what. 
Known as PURE-tech, this fabric is like a personal thermometer: releasing heat when it's warm and trapping it in the cold. Not only that, but the fabric sops up moisture and dries so fast you'll forget you were sweating in the first place. Try a moisture-wicking long sleeve shirt to see what we mean.
3. You're Fabulously Fresh
OK, you're right. Even if you don't SEE sweat, you can sometimes still SMELL sweat. Walk into any gym locker room and you'll agree. But you won't smell a drop with M-Shield, yet another innovative boost we give every sun gaiter, performance T-shirt and other item in our lineup. 
This zinc-based, odor-resistant technology keeps fabrics fresh, defending against odor-causing bacteria. You tend to perform better when you don't smell. Now if only someone would start using M-Shield on gym socks.
4. The Earth Will Love You
One of the best friends you can make is with planet earth, and you'll have that covered with our eco-friendly shirts, hoodies and other apparel. Our clothing is made in Colombia, South America. Why does that matter? 
Well, it's only the top Latin American country for sustainable development and ethical practices. Most of their electricity comes from hydro, geothermal and other non-fossil fuel sources. 
If that's not enough for the earth to love you, get bonus points with our ECO line. Here you'll find recycled technical polyester, which is made from recycled water bottles. 
5. You're Covered Anytime, Anywhere
True. You think sun protection, you think summer. But now it's time to think outside the seasonal box. Our high-tech fabrics work as well in the summer sunshine as they do for wicking and warming layers during spring, winter and fall.   
It doesn't matter what you're up to, either. Swimming. Boating. Hiking. Biking. Scoring soccer goals. Sitting on the sidelines after throwing mud at the referee. Any high-endurance activity is fair game for our lightweight, multi-season, multi-use fabrics. 
6. It's Easier to Wash than Your Dog
Granted, most things are easier to wash than your dog. Except perhaps your cat. The point is, you just throw our apparel in the washing machine and you're done. Because our fabrics are designed to dry quickly, you can hang them up and let the air rapidly do its thing. Or you can tumble dry on low.
No crazy care instructions. No hauling your things to the dry cleaners. Just a quick swish, rinse and dry and you're good to go on your next adventure.  
7. You Get a Long-Lasting Relationship
You know how that last UV gaiter you loved fell apart in about three seconds? That's not our stuff. No matter how much you wear them, how much you wash them or how hard you work them, our fabrics stand up to the toughest challenges.
They even stand up to the heat and pressure of sublimation printing. Forget fading colors and worn-out prints. Whether it's our camo long sleeve shirt or embossed crocodile long sleeve dress, you're in for a long and lasting relationship with your Vapor Apparel.
8. You Enjoy Style for Miles
Ever notice how high-tech gear often comes in tacky colors with even tackier piping? You might want the apparel's durability, protection and tech features, but you sure as heck don't want to be seen wearing the thing in public. 
Go public all you want with Vapor Apparel. Camo long sleeve shirts and embossed crocodile dresses aren't the only items that make the style meter go bonkers. In fact, every piece of clothing and accessory we create comes with a big element of style. 
So stylish, you can weave them into your daily wardrobe without missing a beat—or getting a citation from the fashion police. 
Now you have it: the full rundown of benefits you get from Vapor Apparel. You're protected against the fashion police, harmful UV rays, stinky sweat, and pain-in-the-butt laundering. All this with eco-friendly clothing you can wear anytime, anywhere, all year long. 
Wow is right. Sounds too good to be true? Snap up a few of our latest arrivals to see for yourself. Just make sure you're prepared for a long-lasting, meaningful relationship designed to deliver what you need to look, do and be your best.