Journal
How to Travel More Sustainably
by 20North Marketing Collaborator on Oct 12, 2021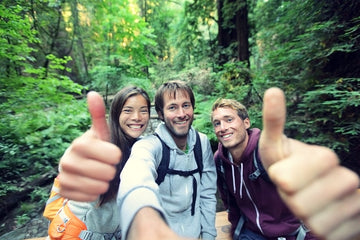 You love the world. You want to travel the world. But you also want to make as little an impact as possible—or even leave things better than you found them. That's what traveling more sustainably is all about, and here come several tips to help you do it.
Pitch a Tent in Your Backyard
Yeah, we know. It kind of goes against the idea of traveling the world. And we're just kidding. Kind of. If you want to get technical with a general rule, the shorter the distance you travel away from home, the lower your carbon footprint.
That's where your backyard comes in. Staycations were all the rage at one point, and they remain a low-cost, high-sustainability option. Take a week off from work, eat locally grown produce, don eco-friendly shirts, and participate in earth-friendly activities around your own city.
You're sure to find a local group or two picking up litter in vacant lots, cleaning up beaches, cutting down buffelgrass, adopting a highway or otherwise making your town a prettier place. Grab your sun gaiter and camo long sleeve shirt and join the fun!
Hop on a Train
Backyards and buffelgrass might be dandy, but we're betting you may want to travel a little further. Like outside of your neighborhood, at least. The most sustainable travel option award goes to the train, which offers a slow, languid, relaxing ride (unless you have screaming kids in tow).
Your mode of transportation can have a huge impact on the environment:
Trains: Trains may be the top eco-friendly option for longer trips. Just remember they're also one of the slowest. So are buses. Bring a book for either trip.  
Planes: Produce the greatest amount of carbon per passenger. If you must fly, aim for a nonstop flight for the highest fuel efficiency. And don't be surprised if you start to feel "flygskam" creep in. The Swedish term translates to "flight-shame," or feeling guilty about the environmental impact of flying as you're sitting on a plane.
Automobiles: Car trips tend to leave a smaller carbon footprint than flying, especially if you have more than one person in the auto. You can even go all-out down the sustainability road with a hybrid or electric car.

Consider the Ecotourism Route
Ecotourism involves traveling to natural environments, typically with the goal of supporting conservation efforts and observing wildlife in their natural surroundings. Bingo! Your flight-shame can be instantly eradicated if you neutralize your plane ride with a bit of ecotourism.
Because ecotourism is focused on conserving and supporting the natural world, you're likely to do a lot of travel on foot. This is the friendliest mode of transport by far, not to mention a great way to get oodles of exercise. Don't forget your pedometer. Explore natural environments on your own or book a trip with one of the many ecotourism travel agencies or companies.
Just make sure you dress the part: 
Stay in a Mud Hut
Yeah, that would be incredibly cool. But probably hard to find. If a mud hut, banana-leaf palapa or bamboo gazebo is nowhere to be found, go for the next best thing: eco-conscious hotels.
Eco-conscious hotels have popped up all over the place, with practices that contribute to minimizing their impact on the earth. Other eco-conscious accommodations can include some Airbnb options, home shares and camping experiences.
Don't Take Selfies with Peanut Head Bugs
Peanut head bugs are these cool critters in the Amazon Rain Forest, where selfies are actually becoming a problem. World Animal Protection (WPA) says Amazon animals "are being torn from the wild" by tourists snapping pic for their social media feeds. Yikes.
So selfies with peanut head bugs are out. So are selfies with electric eels, fishing bats, poison dart frogs or other wild animals you'd have to handle or disturb to get a good pic. In the case of the poison dart frog, you'd be doing more than disrupting their environment. You'd be flirting with death.
BYO Reusable Stuff
Skip the disposable plastic water bottles and throw-away coffee cups by bringing along your own travel water bottle and coffee mug. Get extra points for including a steel straw, reusable food containers, and a bamboo spork. Pack things that give you repeated use to avoid repeatedly creating waste.
Travel with things that give you multiple uses to keep the packing light. The right UV gaiter, for instance, could be pulled up over your face to double as an eye mask for a nap on the plane or meditation in your eco-conscious hotel room.  
A versatile performance t-shirt can be used as a shirt as well as a head covering or neck pillow. A lightweight shawl can also work as a towel or blanket.
Contribute to the Local Economy
Even if you're not embarking on a full-on ecotourism experience out in the wild, you can leave cities and other populated areas better than you found them. Do this by contributing to the local economy.
While you may think staying in a certain area automatically pours money into its economy, you may be wrong. In fact, up to 90% of the money spent by tourists in some developing countries ends up back in the hands of giant, corporate tourism operators. Another yikes!
Combat this by shopping, eating, and staying in establishments you know are owned and run by locals. When possible, skip the big chains in favor of mom-and-pop restaurants and shops.
As you can see from the tips, traveling more sustainably is not only good for the earth—but it can be tons of fun. Especially if you're lucky enough to stay in a mud hut or banana-leaf palapa.
Bon voyage!
Ryn