Journal
Get Back to Nature in These Fall Outfits
by Allison Oliverius on Sep 05, 2023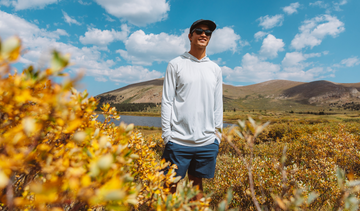 As the vibrant hues of fall foliage paint the landscape, it's time to dive headfirst into nature's playground. It's time to embrace a lifestyle that's all about fun in the great outdoors, whether you're hiking, apple picking, or sipping on pumpkin spice lattes by a crackling bonfire. And guess what? Your fall outfits aren't just threads; they're your adventure buddies, helping you blend right into the season's splendid tapestry. 
5 Things You Need from Your Fall Clothes
Cozy:

Fall clothing is all about comfort and warmth, with cozy base, mid and outer layers (plus hats!) being essential pieces.

 

Layered:

Layering is key during the fall season, so clothing that allows for easy layering is highly sought after.

 

Versatile:

Fall clothing should be versatile enough to transition from cool mornings to warmer afternoons, making it adaptable to changing weather.

 

Autumnal:

Fall clothing often incorporates colors and patterns inspired by the autumn season, such as earthy tones and rich hues.

 

Sun Protection: Don't forget the autumn sun still packs a punch. Whether you're at boating, hiking, at a beer festival or tailgating on game day, make sure you're wearing UPF 50+ sun protection to keep your skin healthy and sunburn-free.
The great news is Vapor Apparel's fall Elemental Wear Collection checks all of these boxes – and more. 
Get Back to Nature in These Fall Outfits
As we take this exciting journey back to a simpler, wilder existence — one that predates the buzz of modern life — let's celebrate it with our fall outfits. Our Elemental Wear Collection comes in earth-inspired hues and is made with our luxe 365 Fabric that's 90% recycled fiber. (We're always looking out for the environment!)  
Below, we put together a few outfits below that provide cozy layers for chilly hikes, stomping through crunchy leaves, and sitting by the fire. You'll find our clothing becomes a vibrant reflection of a newfound connection with the season's beauty. Get ready to rock your fall outfits while you revel in the joy of the great outdoors! 
Depending on where you live, early fall still has some hot days in the forecast. Be prepared with layers. Our Women's Oasis Tank is a great piece to wear on its own or under a hoodie. 
Women's Oasis Tank in Squid Ink  
Women's Mesa Leggings in Pollen  
Beanie in Red Rocks (Coming soon!) 
Our 100% recycled fiber sun hoodie and a pair of our Camper Shorts are a definite go-to for early fall. The technical qualities of this duo go into overdrive when you work up a sweat hiking. 
Men's Eco Sol Hoodie in Pearl Grey
Sun protection is still an issue in fall and winter. Our 365 Fabrics are approved by the Skin Cancer Foundation to provide UPF 50+ sun protection!
Men's Oasis Long Sleeve in Salty 
Men's Alto Jogger in Squid Ink 
Beanie in Safety Orange (Coming soon!) 
Our 200 Mile Tee redefines the typical T-shirt. Pair it with our joggers and you're set for one comfy fall weekend.
Women's Alto Jogger in Olive Branch 
Our 100% recycled fiber Sherpa is soft, soft, soft. Did we tell you it's soft? It's also incredibly warm for those bitter cold days at the end of the season. 
Men's Headwind Sherpa Hoodie in Natural 
Women's Headwind Sherpa Pullover in Slate 
Want more Fall Outfit Inspo? Check out our entire Elemental Wear Collection
What Are the Best Colors to Wear in the Fall?
In the midst of this visual spectacle we call fall, the reds, oranges, and yellows of the foliage serve as a poignant reminder that change, while daunting, possesses its own allure. Get back to nature this autumn in our favorite earthy colors:  
Things to Do This Fall
Check out this Fall Foliage Map where you can track peak fall color in your area.
6 Favorite Fall Foliage Hikes for Families 
10 Best National Parks for Families (Free Park admission on 9.23.23 National Park's Day!) 
10 Best Tailgating Tips for College Football Game Day 
Looking for Ways to Reduce Stress This Fall?
Did you know that as little as 20 minutes outside a day can reduce stress levels? The National Park and Recreation Association suggests you head to your local park or walking trail, or hit the dog park with your fur baby. That's easy to do on the weekends, but if you're working all week, just head outside and walk around your building or parking lot or eat your lunch outside. Get creative so you can reap the benefits of getting a little time outside in the fresh air.